Demographics
---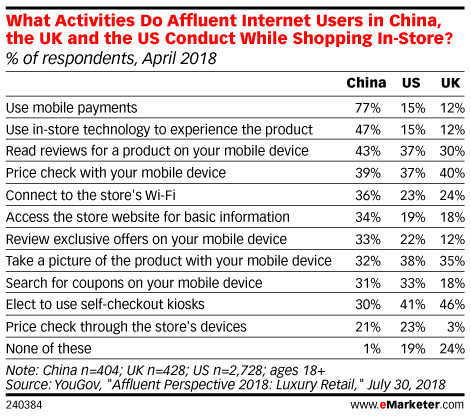 About one in five affluent consumers in the US make no use of any technology while in stores. That's right: no price checks on a smartphone while shopping, no taking pictures of products and certainly no mobile payments.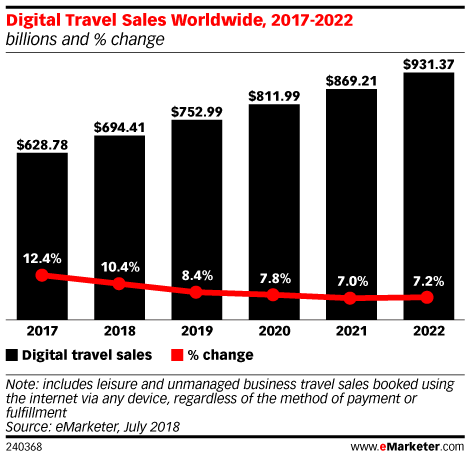 Nowhere is the shift from offline to online booking more pronounced than in China. Digital travel sales in the region will total $133.90 billion in 2018, a 20.5% increase over 2017.
Millennials have been the focus of advertisers, retailers and media for over a decade. Marketers are recognizing this massive shift, but not all are capable of meeting the expectations of younger consumers.
Although their children are digital natives, many US parents worry their kids are too enthralled by device screens. But the remedies have downsides, too.
Older consumers often get short shrift in studies about online shopping behavior because they aren't digital natives like coveted Gen Z and millennials. But it makes sense that older consumers who may not drive or who may have trouble carrying groceries would take advantage of online grocery delivery if they could.
In an IBM and CMO Council survey of senior marketing, supply chain and ecommerce execs worldwide, 48% of respondents said their investments in data are paying partial returns, but they doubt their vendors will deliver on all of their pledges.
Dylan Collins, CEO of SuperAwesome, a kids-under-13-oriented technology provider, spoke with eMarketer's Sean Creamer about why kids are active users of voice-based technology.
The emergence of millennials with significant disposable income is a key demographic trend across Western Europe, and it is already having a dramatic effect.
Brian Gore, director of brand and marketing at The Set Hotels, talks about delivering a better brand experience using digital.
Diana Verde Nieto, co-founder and CEO of Positive Luxury, discusses how the affluent demographic—and luxury itself—has changed.