Advertising & Marketing
---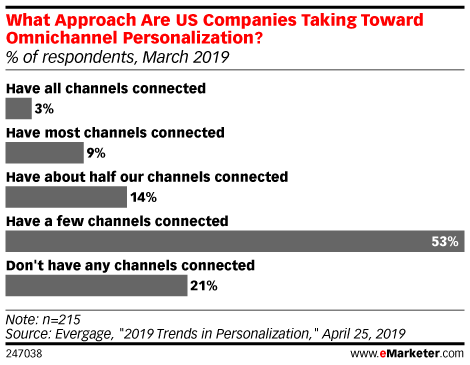 While the ability to identify customers across marketing channels has improved, most marketers still struggle to deliver data-driven experiences across all touchpoints.
US marketers will spend $29.24 billion on programmatic video this year, which accounts for 49.2% of all US programmatic digital display ad spending. For the next few years, we expect the portion of programmatic spend that goes to video to remain steady.
According to an April 2019 survey of global consumers from mobile video ad network AdColony, three in five respondents said they encounter offensive content on Facebook, and about half that figure noted the same was true of YouTube. Inappropriate content appearing on Google, in mobile games, or on platforms like Instagram and Snapchat was less likely, but still apparent.
With consumer privacy concerns at an all-time high and US regulation a certainty, advertisers must shift from a "bigger data is better data" mentality to a more mindful data-driven marketing focus. We spoke with Nicolas Bidon, CEO of WPP's agency trading desk Xaxis, about how this transition inevitably leads to in-housing for some marketers—and why that's not necessarily a bad thing.
In today's "eMarketer Daily Forecast" video, forecasting analyst Eric Haggstrom dives into our numbers for augmented reality (AR) audiences. Watch now.
With connected TV adoption rising, advertisers are keen to access an increasingly sizable audience on a sizable screen. In fact, many connected TV ad buyers may pay north of $20 CPMs to do so, according to a new digital ad pricing statpack that eMarketer will be releasing April 10.
In the latest episode of "Behind the Numbers," eMarketer principal analyst Nicole Perrin talks about the new internet platform regulations coming into effect.
We forecast that native advertising will account for 62.7% of total US display ad spending in 2019, up from 54.2% in 2017. But the bulk of native ad spend will go to social media platforms.
Brands are auditing their agencies to verify how their businesses operate, but some agencies have pushed back against audits. Ali Plonchak, managing director of digital strategy and integration at ad agency Crossmedia, said that agencies should embrace audits because they facilitate transparency, which brand clients demand more of.