Technology
---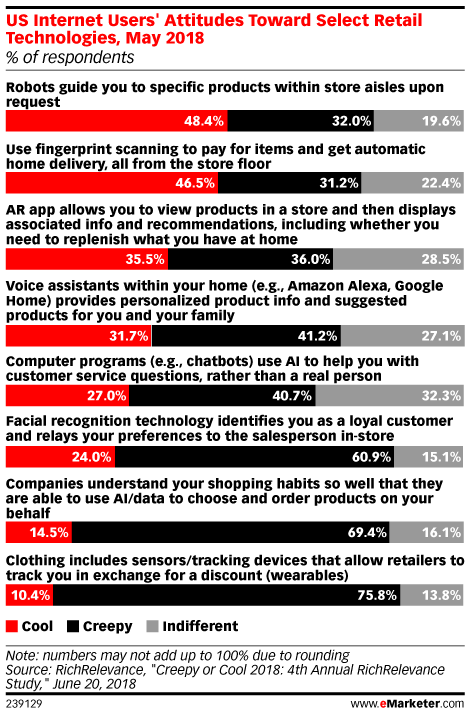 For the fourth straight year, RichRelevance checked in with US internet users about their attitudes toward different retail technologies—from facial recognition to robots. Interestingly, fewer respondents find certain tech to be creepy compared to how they felt in past years.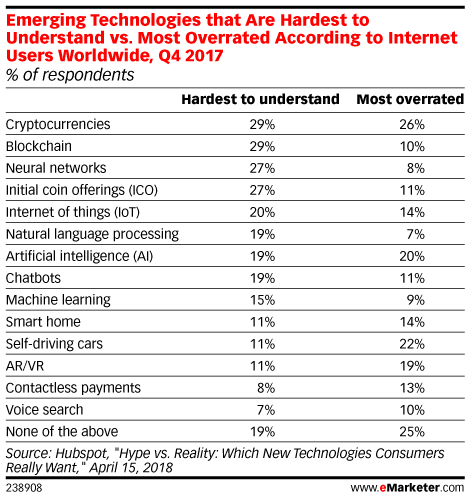 A global survey focusing on new technologies identified some as confusing, but others as both confusing and overhyped.
According to a survey of augmented and virtual reality users worldwide, smartphones will play a much larger role and stores will have much smaller floor space. But change won't happen overnight.
Consumers are very interested in new technology that aims to make long lines a thing of the past.
Nordstrom's purchases of BevyUp and MessageYes reflect the retail industry's increasing focus on providing a personalized customer experience.
More retailers are looking to technology to simplify the shopping process and automate a lot of redundant tasks. Here's how consumers feel about it.
Emerging from a difficult year marked by widespread store closings and declining comparables, retailers gathered at the National Retail Federation's Big Show in New York focused on technology as a key to changing the trendline.
A survey found that many plan to increase their spending on a range of emerging technologies, including artificial intelligence and location-based marketing.
Are driverless cars close to market, or is a full-fledged launch still well off in the future? eMarketer's Ezra Palmer and Marcus Johnson consider the regulatory, technical and psychological hurdles that must be cleared before autonomous vehicles become commonplace. Part three of our series of conversations about apparently outlandish ideas that could become everyday realities.
Scott Webb, president of cloud technology provider Avionos, talks about a surprising path for the future of marketing clouds.