Technology
---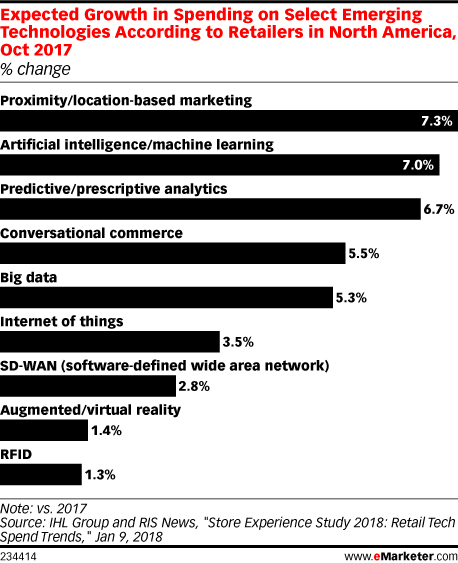 Emerging from a difficult year marked by widespread store closings and declining comparables, retailers gathered at the National Retail Federation's Big Show in New York focused on technology as a key to changing the trendline.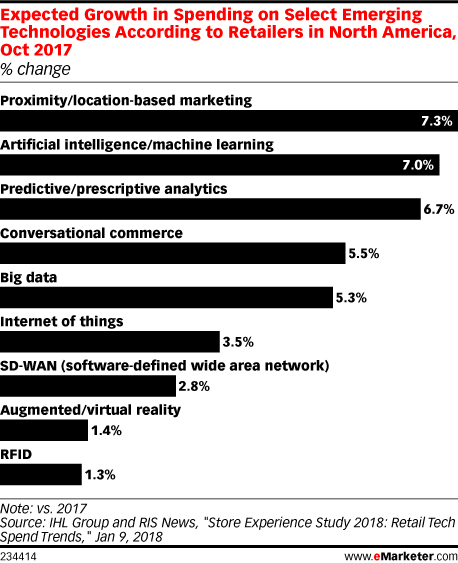 A survey found that many plan to increase their spending on a range of emerging technologies, including artificial intelligence and location-based marketing.
Are drone deliveries likely to be coming to your neighborhood soon? eMarketer's Ezra Palmer and Marcus Johnson discuss the future of drone delivery, and how technical and business factors, as well as consumer attitudes, are likely to affect mass drone deployment. Part two of our series of conversations about apparently outlandish ideas that could become everyday realities.
Executives worldwide list personalized marketing as a top technology-driven strategy when it comes to meeting customers' needs, according to data from Forbes Insights and Gap International.
Less than half of marketing executives worldwide consider themselves "fairly prepared" to meet digitally disruptive competition, according to data from IMD and Cisco.
As technology transforms the business, retailers are waking up to the reality that the way they traditionally structured their organizations may no longer work.
"Blockchain" technology, pioneered by digital currency Bitcoin, is seeing growing interest across a variety of non-financial industries.
In-store technologies can enhance the shopping experience, and many retailers are seeing the benefits of them. A June 2016 survey found that technology can help retailers reach more consumers, as well as better inform in-store employees.
Nish Parekh, program director of IBM Watson client services, spoke to eMarketer about how the company's cognitive computing platform is strengthening marketers' decision-making capabilities.
Restaurant executives are continually turning to technology to improve overall efficiency, and according to June 2016 research, they are not only adopting customer-facing technologies such as loyalty programs and personalized offers, but also those in the back end, like predictive analytics and the internet of things (IoT).