Technology
---

ShopCo Technologies COO Kimberly Cabot discusses how the company's universal shopping cart technology can help retailers fight cart abandonment.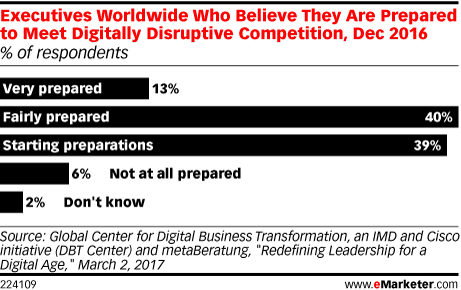 Less than half of marketing executives worldwide consider themselves "fairly prepared" to meet digitally disruptive competition, according to data from IMD and Cisco.
The theme of the show was technology as retailers grappled with the challenge of meeting online competition.
Many marketing organizations have a love and hate relationship with digital startups. Many rely on technology created by startups to power marketing functions like social media and content development. At the same, many business leaders also worry about the long-term threat posed by these companies, which are typically the earliest adopters of new technology, to their business.
Most retailers in North America have a mobile website. But according to July research, deploying certain other mobile capabilities, like geolocation and customer identifying technologies, could be about three to five years down the road.
Digital technology has had an overwhelmingly positive impact on marketers' business outcomes. But actually implementing the necessary internal changes needed to make transformative digital technologies work properly can be difficult. Many organizations report issues adapting their company culture and figuring out who should be in charge of such efforts.
Two in three senior business decision-makers in the UK think artificial intelligence (AI) will help them make the customer experience better by providing them with new data, and half hope to automate tasks so their human workers can add value in new places. But there are many concerns as well, including about the nature of AI itself.
The latest episode of "Behind The Numbers" focuses on smart cities. How is the combination of media and technology fueling municipal innovation, bringing new digital services to denizens and opening up new, cutting-edge advertising opportunities?
Doug Pearce, CEO of Omnicom Media Group (OMG) Greater China, discusses digital innovations in China and how the country could one day become a global digital technology leader.
Migrating analog processes and data to digital technologies has become increasingly valuable for retailers and manufacturers that want to more closely monitor their supply chain. According to research, well over half of these firms expect to step up dollars for supply chain digitization.