Media & Entertainment
---
eMarketer analysts walk you through today's video landscape with our latest forecasts.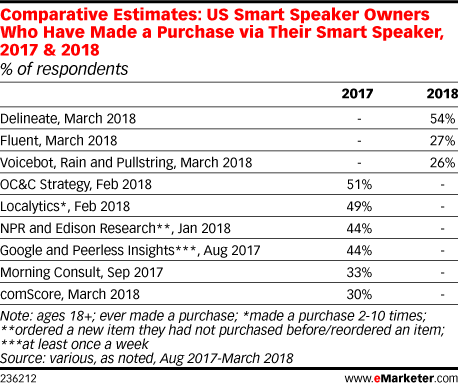 Emerging retail tech straddles the line between utilitarian and useless. Improving the customer experience is usually the end goal but when it's implemented just for the sake of showing off, consumers don't always find it useful. According to a June 2018 JDA Software survey, consumers were receptive to the idea of retail tech.
Ed LaHood, CEO of augmented reality platform Thyng, talks about the state of the AR ecosystem, how it's changing and what that means for marketers.
Millennials may not watch as much TV as previous generations, but their engagement with the TV content they do watch may actually be deeper than other groups.
Every week on eMarketer's "Behind the Numbers" podcast, we take a few minutes to discuss some of the most intriguing headlines of the past seven days. This week, some of the topics we're talking about include Walmart's entry to New York City and a new way to buy concert tickets.
Pinterest launched visual search three years ago, and it now sees 600 million visual searches per month. eMarketer's Yory Wurmser spoke with Omar Seyal, head of discovery product at Pinterest, about what the platform has learned about consumer visual search behavior.
Tony Bevilacqua, founder and CEO of augmented and virtual reality measurement platform Cognitive3D, discusses the metrics available for marketers that want to measure augmented reality experiences.
John Keefe, bot developer and app product manager at Quartz, discusses how the digital publisher uses Facebook Messenger to create loyal readers.
Podcasting is one of the fastest-growing advertising media, with the IAB and PwC projecting the US market will more than double ad spending from 2017 to 2020 to $659 million.
Retailers have been implementing in-store tech and omnichannel options to meet the perceived demands of the modern shopper. A recent RIS News survey found many US internet users are interested in shopping options like "grab and go" technology, while fewer were keen on virtual reality or robots.