Media & Entertainment
---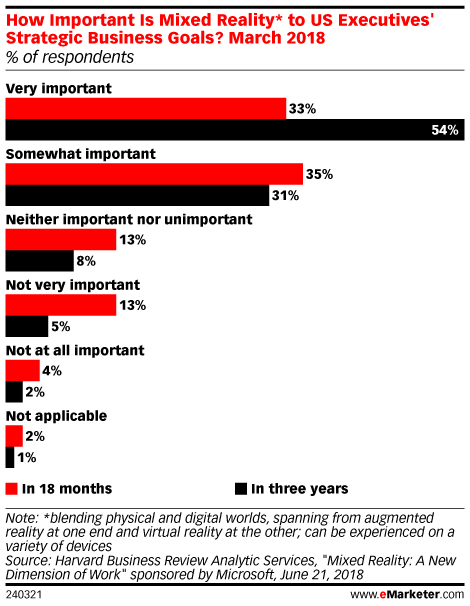 Most companies are not using mixed reality in any way, according to a recent study, but that doesn't mean they don't think it's important.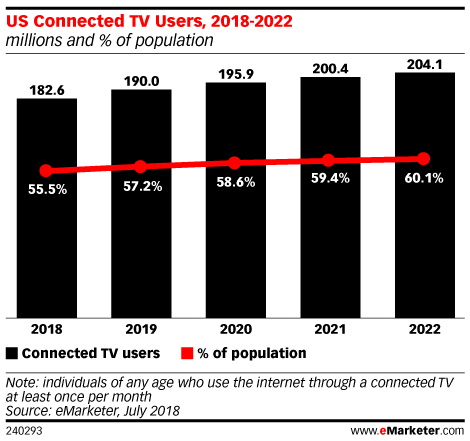 Connected TV households now make up nearly three-quarters of all US households, but those penetration levels don't necessarily add up to a huge advertising market—yet.
Even as traditional pay TV providers form partnerships with former over-the-top rivals to retain customers, cord-cutting continues to outpace projections. According to eMarketer's latest figures, the number of US adult cord-cutters will climb 32.8% this year to 33.0 million. That's higher than the 22.0% growth rate projected in July 2017.
Nearly 765 million people across the globe will use a subscription over-the-top video service at least once per month this year, according to our latest forecast. This total will represent 10.2% of the global population and 32.1% of digital video viewers.
Ryan Chapman, co-founder and CEO of Motive.io, talks about the state of augmented reality in the aftermath of Pokémon Go's success, the most popular use cases for brands and what's next.
Not many consumers have used augmented reality for shopping, but plenty are interested and some say they would be just as happy to avoid clothing retailers altogether if the technology made that possible.
eMarketer's chief content officer and co-founder, Geoff Ramsey, discuss one of the most serious challenges the digital industry has ever faced: consumers' disintegrating trust in brands, media companies and social platforms.
Marketers worry that they can't reach a large enough audience with the technology, according to a new survey.
Companies across the spectrum have embraced the subscription business model. But how much are consumers willing to pay, and for what kinds of products? On the latest episode of eMarketer's "Behind the Numbers" podcast, we dig into the subscription economy.
While the use of virtual reality is not yet mainstream among consumers, specialized applications of the technology are proving useful in a variety of industries.