Media & Entertainment
---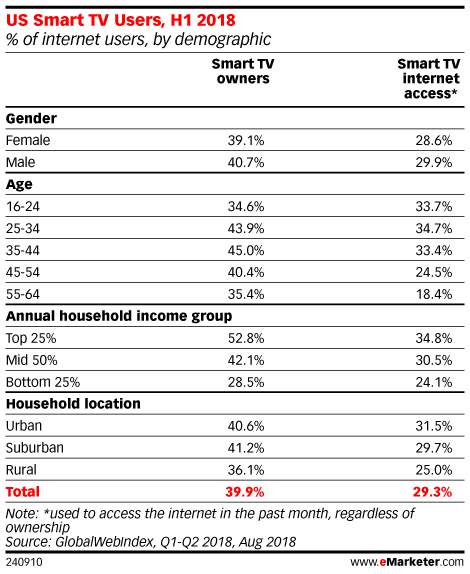 This year, we expect 46.0 million US households will use a smart TV at least once per month, a 16.0% increase from 2017.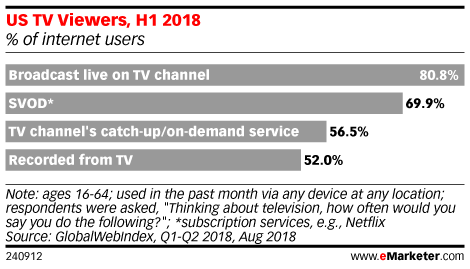 This year, we expect 170.1 million people in the US will use a subscription OTT service, like Netflix—making up 60.8% of internet users.
Alibaba's Singles' Day, China's massive ecommerce festival held annually on November 11, has grown to surpass pretty much every other online shopping event in the world.
In the first of a three-part series on digital video and TV, analyst Paul Verna breaks down the data on ad spending and subscription fees. When will digital video ad spend catch up with TV ad spend? How much subscription income is flowing into services like Netflix and Hulu?
Ad tech vendors and digitally savvy publishers would like to cash in on the digitization of TV advertising. But that may take a while.
Although connected TV advertising makes up a small portion of overall video ad spending, and has its share of challenging dynamics, it's expected to grow in the coming years as audiences continue to embrace digital streaming on their living room screens. Paul Verna, eMarketer's principal analyst, video, examines the connected TV space through the lens of advertising opportunities and challenges.
Emerging retail tech straddles the line between utilitarian and useless. Improving the customer experience is usually the end goal but when it's implemented just for the sake of showing off, consumers don't always find it useful. According to a June 2018 JDA Software survey, consumers were receptive to the idea of retail tech.
Augmented reality investors, marketers and tech providers weigh in on why the market is ready for AR—and why it's the right time for marketers to make their move.
Marketers say that users' fragmented media consumption is disrupting their TV advertising approach.
Ad tech vendors are trying to make bank from the digitization of TV advertising.