Media Buying
---
How does the average person in China use digital? In the latest episode of "Behind the Numbers," eMarketer's Man-Chung Cheung and Shelleen Shum dig into data about internet use, mobile, time spent with media and more.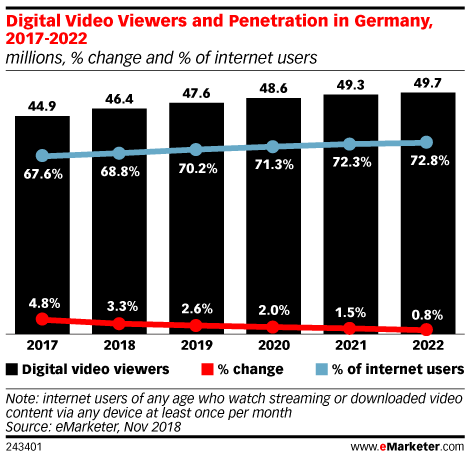 With more content available than ever before, the number of Germans watching digital video is surpassing expectations. YouTube, along with Amazon and Netflix, are driving growth by offering more original content for the German market.
In the latest episode of eMarketer's "Behind the Numbers," analysts Gerard Broussard and Paul Verna discuss the reasons ad spending on advanced TV is growing—and why it still hasn't fully taken off yet.
With digital marketing constantly evolving, marketers are frequently on the lookout for new tactics and technologies that could improve margins and increase revenue. But for those looking to change up how they evaluate their media spend, there are network effects and sunk costs that interfere.
A lot of companies in the ad industry hope to profit from the digitalization of TV. But as with any big change, uncertainty creates some fear.
Fraudsters are trying to make a buck off the ad dollars that flow to mobile. Some research suggests that more than one-quarter of app installs are fraudulent.
Spotify will see double-digit growth in 2018, according to eMarketer estimates. We expect 58.4 million people in the US to use Spotify, which represents 20.8% of internet users. This and other digital trends are included in this year's Global Media Intelligence report. Today, we take a look at the streaming audio market.
In the latest episode of "Behind the Numbers," eMarketer's Ross Benes talks with Jon Romano, vice president of agency development at SpotX, about how ad buyers accidentally overlook connected TV inventory.
Popular social networking app Weibo (Sina Weibo) will continue its double-digit growth this year in China, according to eMarketer's first forecast on Weibo usage. This year, Weibo usage will grow more than 17% to 340.1 million people in China. By the end of 2018, 24.6% of China's population will be a Weibo user.
In the first of a three-part series on digital video and TV, analyst Paul Verna breaks down the data on ad spending and subscription fees. When will digital video ad spend catch up with TV ad spend? How much subscription income is flowing into services like Netflix and Hulu?