Media Buying
---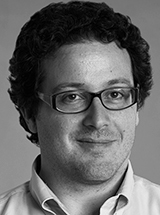 Eli Chapman, senior vice president and managing director of media at R/GA, discusses how CPGs—which historically lack first-party data—approach programmatic ad buying today.
eMarketer analysts walk you through today's video landscape with our latest forecasts.
Agency executives tell eMarketer about why consumers got ahead of advertisers on digital.
Blockchain's distributed ledger could potentially revolutionize digital advertising. But advertisers are cautious about whether the emerging technology will improve things.
Andy Sriubas, chief commercial officer at Outfront Media, discussed how 5G technology will make digital out-of-home advertising more dynamic.
The IAB Tech Lab will likely release its spec for ads.cert later this year. This tool—a complement to the previous IAB Tech Lab initiative ads.txt—will give marketers a deeper check against unauthorized ad selling. Confused already? Here's a primer of what you need to know.
Marketers say that users' fragmented media consumption is disrupting their TV advertising approach.
Political ad spend estimates have been revised higher amid an increasingly contentious election season. TV broadcasters will win many of these added dollars, moderating a longer-term downward revenue trend.
Financial intermediary Oarex Capital Markets analyzed more than 10,000 invoices from its clients—publishers, ad tech vendors and agencies—and found that over the past year, 55% of payments came late.
Since it became enforceable on May 25, the EU's General Data Protection Regulation (GDPR) has become a legal headache for marketers, led some publishers to turn off open exchanges and even caused several vendors to pivot their business models.