Media Buying
---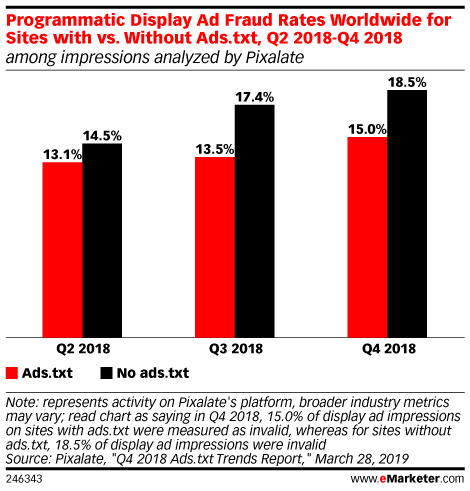 eMarketer principal analyst Nicole Perrin discusses the declining ad fraud problem. How is ad fraud affecting the industry? And how is the industry fighting back?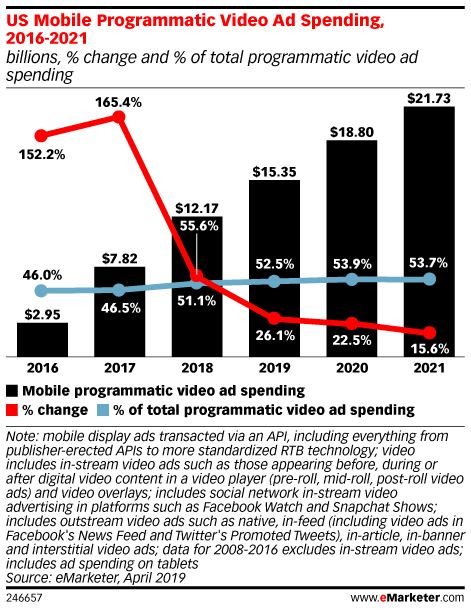 US marketers will spend $29.24 billion on programmatic video this year, which accounts for 49.2% of all US programmatic digital display ad spending. For the next few years, we expect the portion of programmatic spend that goes to video to remain steady.
In today's "eMarketer Daily Forecast" video, senior forecasting analyst Chris Bendtsen breaks down the impact of Brexit on the Google-Facebook duopoly. Watch now.
In today's "eMarketer Daily Forecast" video, forecasting analyst Eric Haggstrom ranks the countries that will hit at least 50% of digital ad spending this year. Watch now.
Advertisers crave first-party data, but they often struggle to make the most of it. In a survey of US digital marketers by Advertiser Perceptions and programmatic agency MightyHive, respondents said they were, on average, tapping into just 47% of their company's first-party data potential.
We forecast that native video will make up 38.1% of US digital video ad spending in 2019, but it won't take a much larger share in the near future.
Brands are auditing their agencies to verify how their businesses operate, but some agencies have pushed back against audits. Ali Plonchak, managing director of digital strategy and integration at ad agency Crossmedia, said that agencies should embrace audits because they facilitate transparency, which brand clients demand more of.
The push for more effective ad targeting remains one of marketers' chief occupations. More than half of client-side marketers surveyed by Econsultancy and Adobe said leveraging data for more effective segmentation and targeting is among their top three organizational priorities this year.
Newspapers and magazines have seen declining print revenues for years and hoped digital would make up for those losses. But even as the US digital ad market will grow by 19.1% this year to $129.34 billion, newspapers and magazines aren't seeing increases nearly that big.
This year, US advertisers will spend two-thirds of their digital budgets on mobile placements. Mobile ad spending has taken the majority of digital spending every year since 2015, and both search and display spending skew heavily mobile. But, even though it falls under the display umbrella, video is the only digital ad format where more ad dollars are still spent outside mobile channels.