Media Buying
---
Even though we increasingly spend time with digital media, traditional media ads still motivate. That's because channels like radio have massive reach. But does reach lead to real-world sales?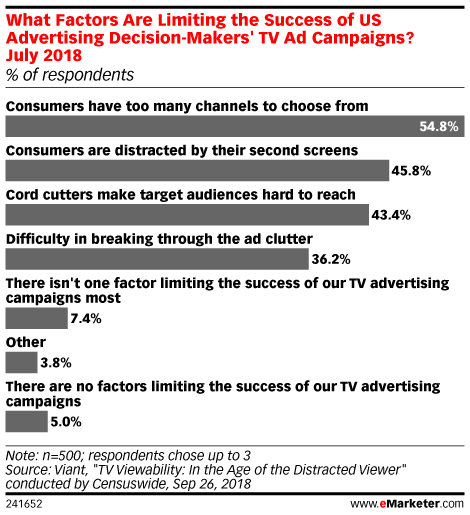 Marketers say that users' fragmented media consumption is disrupting their TV advertising approach.
Ad tech vendors are trying to make bank from the digitization of TV advertising.
At an eMarketer breakfast event yesterday, a panel of eMarketer analysts weighed in on Amazon and discussed the giant's future.
Video ad spending on social properties is growing rapidly. In the latest episode of eMarketer's "Behind the Numbers," we break out highlights of our new forecast for social video ad spending, and dig into the growth drivers.
In the latest episode of "Behind the Numbers," we put Facebook to one side for a second and discuss the other social platforms. How has a dip in user growth affected Snap's ad revenue potential? What's behind Twitter's rebound? And how much money does Pinterest make from digital advertising?
In today's episode of "Behind the Numbers," we're talking about the "Big Three"—the largest digital ad platforms. We dig into their revenue streams and discuss how their businesses are changing, and why.
In 2018, more than a third of all advertising dollars in Canada will be spent in mobile channels.
So far, targeting and audience segmenting are among the most common uses for the emerging technology.
Web browsers, Facebook and the GDPR have each done their part to make third-party data less appealing.