Retail & Ecommerce
---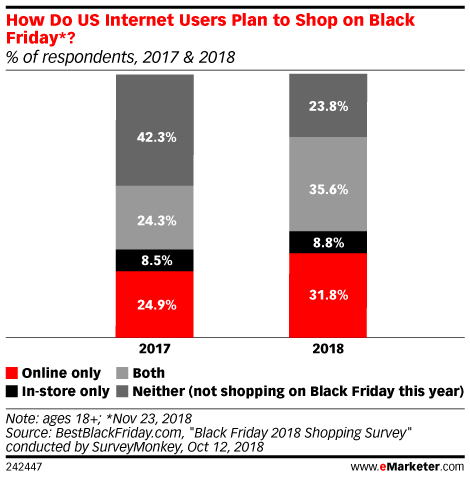 As Thanksgiving rapidly approaches, the holiday shopping season is kicking into overdrive. Retailers are ready for the surge in consumer spending on Black Friday, but what shopper behaviors should they expect? We break down three key trends for the holiday weekend.
No email marketer wants to see an unsubscribe. And even with providing post-unsubscribe check boxes to gather user feedback, motivations aren't always clear.
Return policies used to be viewed as a necessary evil. Behind the scenes, logistics can create a lot of headaches for retailers, but consumers expect a seamless process. Flexible returns have also become a differentiating factor that can make or break customer loyalty.
Heading into the fiercely competitive holiday shopping season, Walmart is poised to capture an even larger portion of this year's online retail sales, according to eMarketer's latest retail forecast.
With reports of cybersecurity mishaps surfacing periodically, the retail industry has only a so-so reputation for protecting consumer data. In fact, data breaches have just become a part of doing business.
Online shopping has become a sport during Thanksgiving week and beyond, and it's also starting to play a role in the holiday meal itself. In many ways, the convenience of buying groceries online seems well-suited for larger-than-usual gatherings, even if it is used by only a small number of consumers.
According to a September 2018 survey from Third Door Media, 34.2% of US ecommerce-focused marketers currently spend 10% to 25% of their digital ad budget on Amazon. Future intentions are strong: 80% plan to increase their Amazon ad budgets next year.
Mobile has become integral to the shopping experience, yet when it comes to transacting—especially in store—US consumers still aren't fully on-board.
This year, 55.0 million people in the US will use mobile payments, making up 20.2% of the population, according to eMarketer estimates.
Alibaba's Singles' Day, China's massive ecommerce festival held annually on November 11, has grown to surpass pretty much every other online shopping event in the world.