Retail & Ecommerce
---
This year, ecommerce is set to be 10.9% of total US retail spending—about one-eighth the size of retail brick-and-mortar. The general merchandise category will account for about 50% of total retail sales this year, and that number climbs to roughly 67% when you look at strictly online general merchandise sales.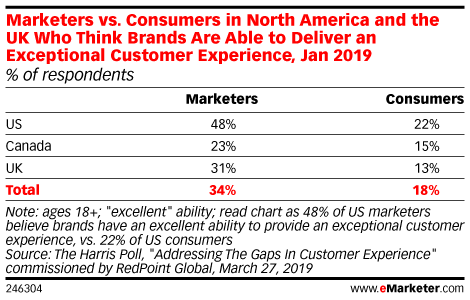 In the US, almost half of marketers think they're delivering an "excellent" customer experience, according to January 2019 research from The Harris Poll. But fewer than a quarter of consumers felt the same.
Last year, the number of locations offering "buy online, pick up in-store" (BOPUS) nearly doubled among leading US grocery retailers. Walmart (and various third-party partners), Target/Shipt, Kroger/Instacart, Ahold and Albertsons brought their collective number of click-and-collect locations from 2,451 in January 2018 to 5,800 in December 2018, per data from CommonSense Robotics.
Smartphone retail mcommerce sales will make up 34% of all US ecommerce sales this year, reaching $203.94 billion. While desktop purchases still dominate—amounting to $331.85 billion in 2019—they are growing at a rate of just 5.0%.
This year, we expect China's total retail ecommerce sales will grow more than 30%, reaching nearly $2 trillion—the highest-grossing retail ecommerce market worldwide, according to our latest forecast. Behind China, the US retail ecommerce market will reach $600.63 billion in sales, growing nearly 15% year over year.
The online grocery market heats up following the news Amazon is planning to open a new line of grocery stores in locations across the US in 2019.
The online grocery market is starting to reach an inflection point, but in order to achieve success, retailers must overcome key logistical hurdles.
Mundane concerns like getting a quality product or service at a good price are still the biggest drivers of brand loyalty for US internet users.
Social commerce only drives a fraction of ecommerce sales, but it's picking up speed. Between 2016 and 2018, social networks as a last-touch channel have doubled in visit share to US retail sites, according to Q3 2018 data from Adobe.
In the latest episode of "Behind the Numbers," we're talking social commerce with Curalate CEO Apu Gupta. Why did social commerce fail to catch fire in its early years, and why is it different now?