Retail & Ecommerce
---
Every week on eMarketer's "Behind the Numbers" podcast, we take a few minutes to discuss some of the most intriguing headlines of the past seven days. This week, we're chatting about high-profile hacks, the race for more impenetrable encryption, and media with aroma.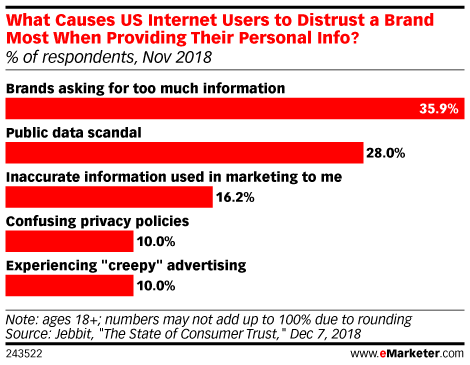 Gating content and offers can provide marketers with valuable data for lead generation. However, asking for too much information can turn users off from a brand.
Holiday retail sales will surpass $1 trillion in the US for the first time this year, with mobile celebrating its own milestone by driving nearly 25% of growth.
While a gap in ecommerce adoption between retailers and brand manufacturers used to be quite prevalent, it's now common practice for brands to sell online, a trend that will continue to increase in 2019.
This year, 134.0 million mobile users in the US will use a mobile coupon. That's an 8.0% increase from 2017, according to eMarketer estimates.
With data breaches a constant worry, many consumers don't feel too confident in being able to control how their personal data gets used.
Adoption of mobile payments varies widely from market to market around the world. The US, with a robust banking and credit system, has been slow to adopt mobile payments, but behaviors are changing. In this three-pack podcast playlist, we discuss market drivers and where the industry is going next.
In the latest episode of "Behind the Numbers," eMarketer analyst Lauren Fisher is joined in the studio by digital strategist Chris Lundquist for a conversation about consumers' view of loyalty and what the major motivators are for building that loyalty.
US retail ecommerce sales for the holiday season thus far (Nov. 1 through Nov. 26) generated $58.5 billion, a 19.9% increase from last year, according to research from Adobe.
In a special holiday episode of eMarketer's "Behind the Numbers," hosts Marcus Johnson and Ezra Palmer consider some of the year's key digital developments—GDPR, e-sports, Amazon Go stores and more—and ask a simple question: "Should we be thankful for this?"