Retail & Ecommerce
---
In the latest episode of eMarketer's "Behind the Numbers" podcast, analysts Nicole Perrin and Andrew Lipsman dig into Amazon's latest results and consider the commerce giant's prospects as it heads into the crucial fourth quarter.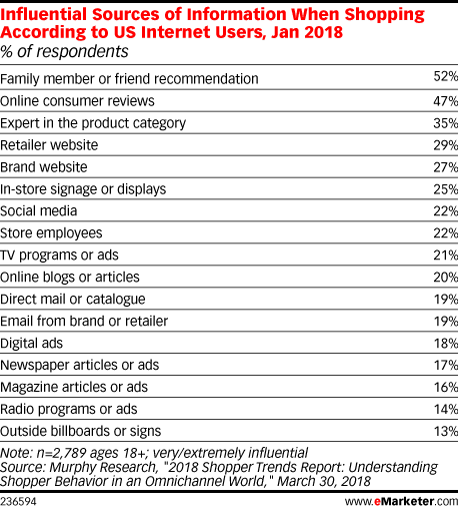 Consumer perception isn't formed just by strangers' experiences with a product—shoppers are also evaluating retailers on how responsive they are. While consumers expect to see online buyers' honest opinions, they also have high expectations for retailer involvement.
Irvin Gray, head of marketing at wireless charging provider Chargifi, discusses how loyalty strategy plays out as the company works to acquire customers and grow its business in the early stages.
Despite ups and downs in the subscription commerce segment, it's still a subject of great interest in the retail industry. Most brands that started online and direct to consumer have expanded to retail channels, either through partnerships or acquisitions.
Rewards-based programs are not just for consumer-facing companies anymore. McKinsey & Company's Jennifer Stanley believes B2B organizations can greatly benefit from adopting these programs to retain customer loyalty.
Following Amazon's decision to ban consumers suspected of abusing its return policy, 61% of US retailers in a recent Brightpearl survey said they would consider a similar move to rid themselves of serial returners.
Ecommerce-wise, sometimes it seems like everything old is new again. Traditional retail features like layaway and installment plans have been adapted for online shopping and are growing in popularity—especially among younger consumers.
For as much as you hear customer service horror stories, according to an August 2018 survey by call center tech provider Genesys, 94% of US internet users considered their last customer service experience to be positive.
Now that Generation Z has some purchasing power of its own, many of these young internet users are turning to the opinions of strangers to decide what they should buy—just like their older counterparts.
US companies can still be affected by the GDPR if they have EU customers or audiences. News publishers like the Los Angeles Times and Newsday have blocked traffic from the EU rather than risk being fined.