Retail & Ecommerce
---
In this on-demand Meet the Analyst Webinar, eMarketer senior analyst Mark Dolliver, shares what digital marketers can expect, and insight on how to prepare your strategy for the year ahead. Topics discussed include digital's reinvention of physical retail, voice technology, social media and more.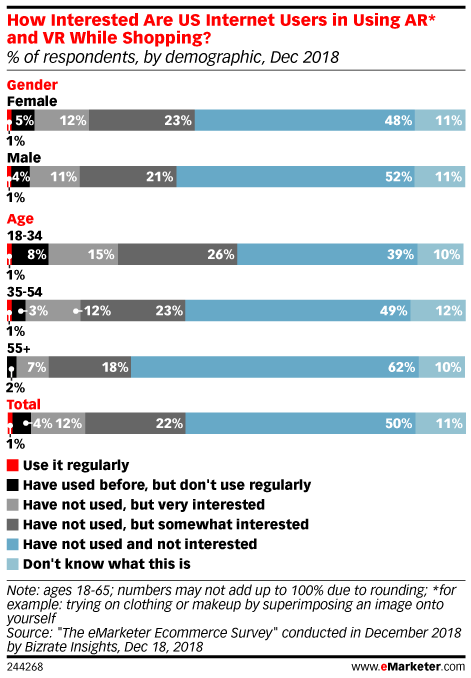 Retail executives and consumers in the US, the UK and Australia have widely disparate expectations about artificial intelligence's (AI) and virtual reality's (VR) effects on the retail sector
Walmart is doubling down on its digital grocery efforts with a splashy new campaign promoting Walmart Grocery Pickup, its click-and-collect service.
A favorite choice of gift-givers this holiday season? New clothes. The apparel category had its biggest year-over-year performance since 2010.
With more logistic facilities opening up throughout the US—and retailers doing a better job of communicating with customers about delivery options—most deliveries managed to meet holiday deadlines and satisfy consumer expectations.
Retail is undergoing a technological transformation that is driving retailers to automate redundant tasks and revamp their mobile strategies.
The numbers aren't in yet, but Walmart might have overtaken Amazon as the largest digital grocery player in the US.
For this holiday edition of the Weekly Listen podcast, we dig into some surprising data about Christmas, and welcome a unexpected visitor in the studio.
For the first time, holiday retail sales will cross the $1 trillion mark. Up 5.8% from the year prior, the 2018 season will benefit from near record-high consumer confidence, strong ecommerce sales and over 30 shopping days between Thanksgiving and Christmas.
Voice commerce might one day change how people shop online. But for now, only a minority of consumers regularly use a voice-activated smart speaker to make purchases.