Retail & Ecommerce
---
Retail media has turned Amazon into an advertising behemoth, allowing the ecommerce giant to become a significant player in the US digital ad market.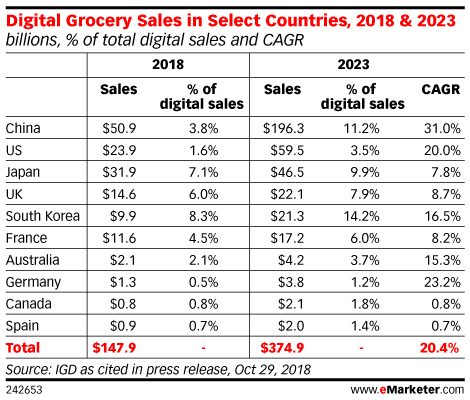 Global trends shifting shopping, including omnichannel selling, the rise of "New Retail," cross-border ecommerce, social commerce, and top ecommerce players like Amazon and Alibaba and why marketplaces are dominating worldwide.
eMarketer principal analyst Andrew Lipsman dissects what we can expect from Amazon Prime Day 2019. He also discusses why Etsy sellers are getting frustrated and explains what to make of the newest D2C shaving brand.
eMarketer principal analyst Andrew Lipsman explains why politics inside Walmart are threatening the company's ecommerce ambitions. He also discusses why Pinterest is encouraging video, people buy things they don't want, Whole Foods is getting a boost from Amazon and millennials like to pay for things in bits.
eMarketer principal analyst Andrew Lipsman talks with Scott Silverman, co-founder of retail conference CommerceNext, about how D2C brands and retailers are earmarking their digital investment dollars. Lipsman also weighs in on Brandless's new CEO, Nordstrom being a "no-growth" retailer and Starbucks's new tie-dye Frappuccino.
It may have started as a holiday manufactured by Amazon, but Prime Day has become one of the biggest shopping events of the year. Nearly every major online retailer—including Walmart, Target and eBay—now offers competing sales during the annual July shopping event. For many Prime Day shoppers, the search for the best deals online doesn't end with Amazon.
Brexit and its aftermath are very much top of mind for UK companies this year. Retail is feeling the uncertainty as consumers remain circumspect about their discretionary spending and retailers face increasingly tighter margins.
The retail ecommerce ecosystem in China is extremely diverse. While Alibaba and JD.com are the clear sales leaders, a handful of other players are holding their own, sometimes by carving out a niche market, be it Suning in consumer electronics or Mogujie in women's apparel.
The global retail market will reach $25.038 trillion in 2019, an increase of 4.5% and a slight acceleration in growth vs. the prior year, per our estimates. At the same time, it represents a marked decline from the five years preceding that, when global retail sales grew at rates between 5.7% and 7.5% each year.
When looking at the largest US ecommerce sites, eBay is a distant second to Amazon. But as third-party sellers become more prominent on Amazon's marketplace, many want to expand to other platforms, a possible silver lining for eBay.