Retail & Ecommerce
---
Marketers have long grappled with how to best leverage the data they've collected. It's certainly a challenge as data fuels nearly all of their marketing efforts—including personalization, audience segmentation and targeting.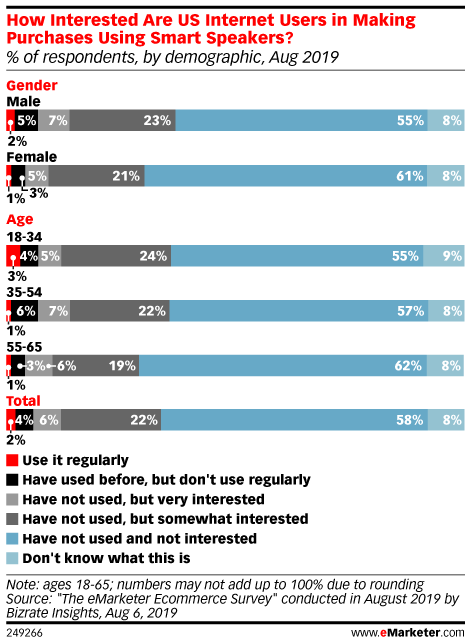 Most internet users in the US still have not used and aren't interested in using smart speakers to make purchases, according to an August 2019 survey conducted by eMarketer and Bizrate Insights. While 4% of respondents have made a purchase using a smart speaker at least once, just 2% said they used these devices to make purchases regularly.
Measuring attribution and return on investment remains a key challenge when marketing with influencers—which means that it can be hard to quantify the merits of utilizing them. But neuroscience research from the UK, showing cognitive responses to traditional marketing vs. influencer posts, may provide some answers.
A pioneer in the delivery space, ecommerce powerhouse Amazon has transformed the standards for logistics when it comes to the customer experience. It's been so impactful that shoppers have come to expect almost immediate delivery after they click "buy now."
eMarketer principal retail analyst Andrew Lipsman explains why second-hand shopping is bouncing back, and gives the most important takeaways from Walmart, Macy's and J.C. Penney's Q2 financials. He also explains how much ratings and reviews affect a company's revenue, which US stores are closing down the fastest and who people are most likely to trust for shopping recommendations.
Direct-to-consumer (D2C) brands continue to disrupt the retail space. The companies use an array of tactics to attract business, from offering low prices to targeting shoppers who care about ethical consumption to simply providing a more convenient experience.
Retailers can't always rely on customer feedback to measure the success of their ecommerce platforms. Small technical issues, which often go unnoticed by the business itself, can significantly hinder the customer experience.
Nearly half of consumers surveyed by Paysafe said they've used biometrics—typically based on facial recognition technology—to make some form of payment.
Scrolling through social media, it's hard not to be influenced by influencers. Do you need another carry-on bag? Probably not. But do you have to have it after you saw an influencer capturing its essence on the hills of Santorini, and you suddenly saw yourself there? Of course you do.
Consumers are hesitant to engage with the latest automated customer experience offerings. In industries like healthcare and financial services, many prefer to consult with humans through traditional mediums. But in retail, more are willing to use emerging technologies—including chatbots and artificial intelligence (AI).