Retail & Ecommerce
---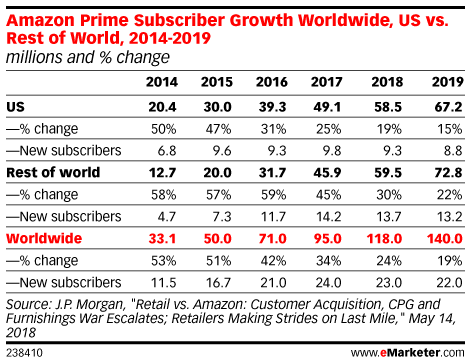 Amazon's influence over the US ecommerce market is undeniable. Prime, Amazon's customer loyalty program, has been a major driver behind its success in the US.
In the latest episode of "Behind the Numbers," eMarketer analyst Lauren Fisher is joined in the studio by digital strategist Chris Lundquist for a conversation about consumers' view of loyalty and what the major motivators are for building that loyalty.
In the latest episode of "Behind the Numbers," eMarketer Bill Fisher discusses the evolving UK retail market and the growing impact of mobile shopping.
Jason Goldberg, senior vice president of commerce at Publicis.Sapient, digs into the strategy behind Amazon Go and tells eMarketer how the ecommerce giant will further disrupt retail's competitive landscape.
No email marketer wants to see an unsubscribe. And even with providing post-unsubscribe check boxes to gather user feedback, motivations aren't always clear.
The UK holiday shopping season is on pace to hit two major milestones this year. The holiday season, which eMarketer defines as November and December, is the most important retail period in nearly all major European markets.
Every week on eMarketer's "Behind the Numbers" podcast, we take a few minutes to discuss some of the most intriguing headlines of the past seven days. This week, we're chatting about Amazon's controversial HQ2 (er, 3) decision. Plus: Juul's move to quit social, and the rise of the nanoinfluencer.
Singles' Day racked up another year of double-digit growth, and consumers around the world spent more than $1 billion in the first 90 seconds of the day. But as the annual shopping event enters its second decade, growth is slowing and expectations are being revised. eMarketer's Man-Chung Cheung was on the ground in Shanghai on Nov. 11. He and analyst Andrew Lipsman join Marcus Johnson to discuss the shopping event and what comes next.
In the latest episode of "Behind the Numbers," forecasters Showmik Podder and Chris Bendtsen break out data from eMarketer's new estimates for mobile payments usage. How many people around the world use mobile phones to make payments? Where are mobile payments the most common? Why would anyone want to pay via phone, anyway?
Data breaches and the threat of regulation have chief marketers on edge about data security.