Retail & Ecommerce
---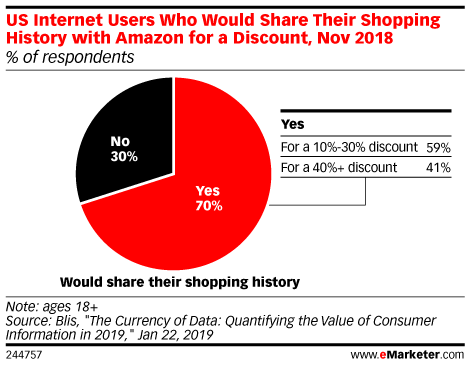 Consumers don't fully trust retailers with their data. But, they'll put their reservations aside for the right price.
Retail is in the midst of a radical transformation. In this eMarketer analyst report, we look at what to expect for the US retail and ecommerce markets in 2019, and share key trends that will have an impact on shopper behavior and retailer performance.
Millennials have been credited with upending entire industries, and retail is no exception. Here's what retailers need to know about attracting and retaining consumers from a maturing generation of digital shoppers.
China is poised to become the world's top retail market in 2019, surpassing the US by more than $100 billion, according to eMarketer's latest worldwide retail and ecommerce forecast.
In this on-demand Meet the Analyst Webinar, eMarketer senior analyst Mark Dolliver, shares what digital marketers can expect, and insight on how to prepare your strategy for the year ahead. Topics discussed include digital's reinvention of physical retail, voice technology, social media and more.
The ecommerce giant is leveraging its trove of first-party data to help brands target prospective customers with free swag.
Walmart is doubling down on its digital grocery efforts with a splashy new campaign promoting Walmart Grocery Pickup, its click-and-collect service.
A favorite choice of gift-givers this holiday season? New clothes. The apparel category had its biggest year-over-year performance since 2010.
With more logistic facilities opening up throughout the US—and retailers doing a better job of communicating with customers about delivery options—most deliveries managed to meet holiday deadlines and satisfy consumer expectations.
Retail is undergoing a technological transformation that is driving retailers to automate redundant tasks and revamp their mobile strategies.