Retail & Ecommerce
---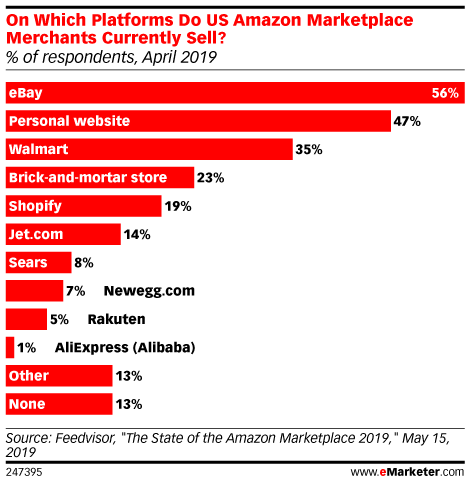 When looking at the largest US ecommerce sites, eBay is a distant second to Amazon. But as third-party sellers become more prominent on Amazon's marketplace, many want to expand to other platforms, a possible silver lining for eBay.
The trade war between the world's two largest retail markets is taking its toll, especially on China. Coupled with a slowing domestic auto market, the trade war is hurting the country's retail sales. In our latest worldwide retail forecast, we have cut our outlook for China and the US. As a result, China will not surpass the US in total retail sales this year, as expected in our Q4 2018 forecast. That milestone will likely not happen until 2021.
We forecast that US retail ecommerce sales of health, personal care and beauty products will surpass $53 billion this year, up 18.6% from 2018, making it the second-fastest growing category among those we track—slightly slower than food and beverage.
Social commerce has had its ups and downs, but thanks to increased discovery and brand involvement, it has begun to materialize.
Spending on Father's Day gifts is expected to reach a record high $16.0 billion, according to a May 2019 report by the National Retail Federation (NRF). But that doesn't mean fathers should expect to receive anything too glamorous—greeting cards are still the most popular type of gift that consumers plan to purchase.
eMarketer research analyst Matteo Ceurvels sheds light on the latest trends in digital and mobile commerce in Latin America. How much retail business is done through digital channels in the most populous countries in the region? How are brands capitalizing on the "mobile-first" mentality? What are the top ecommerce platforms in key countries like Mexico and Brazil?
The majority of social commerce in the US takes place on Pinterest, Instagram and Facebook, though Snapchat is also part of the mix.
eMarketer senior analyst Jasmine Enberg examines the implications of WhatsApp's latest strategic moves, including its decision to launch an ad platform in 2020 and a mobile payments system in India.
eMarketer senior forecasting analyst Cindy Liu shares our US ecommerce estimates and explains why these numbers lag behind other markets worldwide. Watch Now.
Subscriptions like Netflix and Spotify have successfully transformed the way people engage with media, but retail subscriptions are yet to transform the way people shop. So far, retail subscription boxes have seen momentum within the fast-moving consumer goods (FMCG) category—think companies like Blue Apron, Dollar Shave Club and Birchbox. Despite the waves these companies have made, are consumers actually ready to automate their purchases of everyday goods?