Artificial Intelligence
---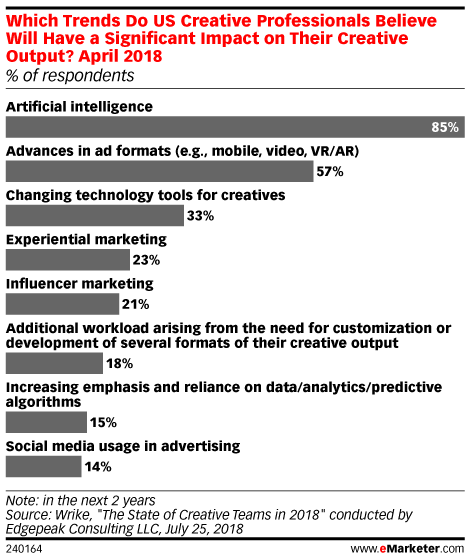 Advertisers and artists believe that artificial intelligence will boost their output over the next two years.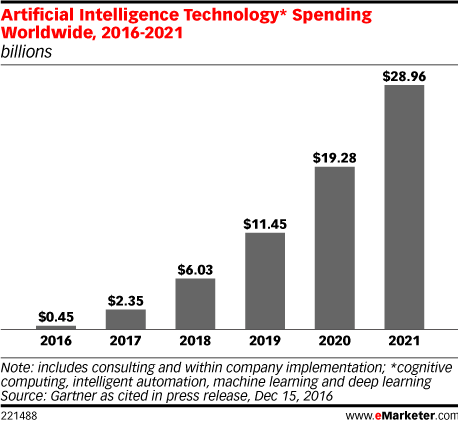 Investment and interest in artificial intelligence (AI) remains high, though large-scale adoption is happening more slowly. Still, many companies have ambitious plans for AI systems and are looking to them to improve their business operations. eMarketer has curated this Roundup of articles, insights and interviews to help you understand today's AI landscape and how marketers are putting it to work.
Companies across all industries are trying to figure out how voice control can help them interact with their target audiences and build brand engagement in more personalized and frictionless ways.
Meg Goldthwaite, CMO at National Public Radio, and Gina Garrubbo, CEO of National Public Media, discuss how brands can reach the voice-addicted population without disrupting the user experience.
What exactly is the difference between artificial intelligence and machine learning? If you're unsure, don't worry—you're not alone.
Amid rising ownership of voice assistants and smart speakers like Amazon's Echo and Google's Home, voice search is becoming standard operating procedure for many consumers. eMarketer has curated this Roundup of articles, insights and interviews to help you understand the conversational commerce ecosystem, encompassing chatbots and personal assistants.
A May 2018 Voicebot survey found that nearly 21% of US internet users said they would ask their voice assistant for in-store help, while 17.6% would use their voice assistant to self-checkout.
Five B2B brand marketing leaders talk about how they pushed through barriers, implementing marketing technology solutions at their organizations that integrate disparate data sources and make audience data actionable for advanced and targeted marketing practices.
Tim Sims, senior vice president at The Trade Desk, discusses how ad buying is becoming more automated.
Chris Papaleo, executive director of emerging technology at Hearst, discusses how the publisher puts itself in the position to benefit its brand partners.