Artificial Intelligence
---
In the latest episode of "Behind the Numbers," the topic is automation and jobs. Where is automation displacing human jobs, and what new opportunities are emerging?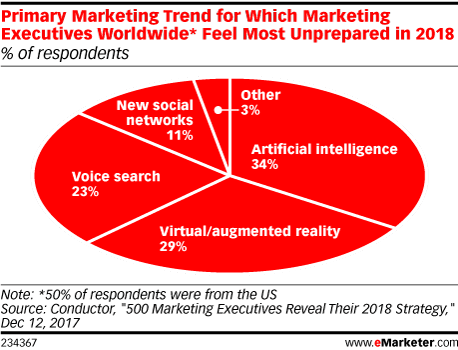 Marketers may be intrigued by new developments like artificial intelligence, augmented reality and voice search. But plenty worry that they are unprepared to work with emerging tech.
Important AI-supported technology, such as facial recognition, is expected to reshape many sectors.
William Bao Bean, managing director of Chinaccelerator, explains how investments in artificial intelligence and machine learning are helping marketers improve user targeting and return on investment (ROI).
Chris Victory, vice president of partnerships at demand-side platform MediaMath, discusses the applications of AI in the programmatic space.
China has become a battleground for fully-automated, cashierless stores, with investors pouring money into such efforts. Traditional retailers, ecommerce players and startups have all entered the fray with a mix of retail technologies.
Many retailers see investing in new technology as a must if they are to remain competitive, but consumers may not be ready to adopt new platforms and tools. A new survey indicates consumer wariness of chatbots and robots.
Allen Nance, global CMO at Emarsys, discusses what human and machine marketers are each meant to do.
Julie Lyle, chief revenue officer at acquisition marketing platform DemandJump, talks about how artificial intelligence could help map the customer journey.
While more than six in 10 marketers in North America are aware of the technology to some degree, only 3% consider themselves experts in the area.