Artificial Intelligence
---

Jim Hertzfeld, chief strategist at digital agency Perficient Digital, discusses how some brand marketers are connecting marketing data to merchandising data to maximize the value of what's available to them.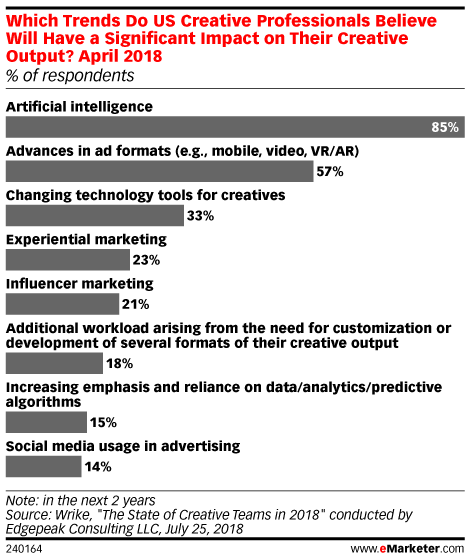 Advertisers and artists believe that artificial intelligence will boost their output over the next two years.
Technology publisher The Information rattled the digital sector with a report suggesting that the vast majority of smart speaker owners have not used the devices to make purchase, and the few who had tried voice-controlled shopping were unlikely to do it again.
Doug Robinson, CEO of Fresh Digital Group, talks about the benefits of investing in branded voice skills and the future of voice.
Lee Van, chief strategy officer at Captura Group, talks about how marketers over generalize when targeting Hispanic consumers.
Dylan Collins, CEO of SuperAwesome, a kids-under-13-oriented technology provider, spoke with eMarketer's Sean Creamer about why kids are active users of voice-based technology.
Consumers still have some reservations about retail tech—like chatbots providing customer service or in-home voice assistants suggesting products—so it makes sense that many are more receptive to a combination of AI-assisted and human interactions. But transparency is key: Shoppers want to know if they're dealing with a human or a computer.
A May 2018 survey by Automat found that 70% of US female beauty buyers said they were overwhelmed by product choices. One solution to the overwhelmed-with-choice conundrum could be virtual beauty advisors.
Voice's potential as the future of online communication has drawn tech, telecom, search and retail giants into a "voice race" to own the market.
Don Vega, principal media trader at Goodway Group, spoke about how artificial intelligence and other emerging products are leading ad buying firms to reorganize themselves.