Artificial Intelligence
---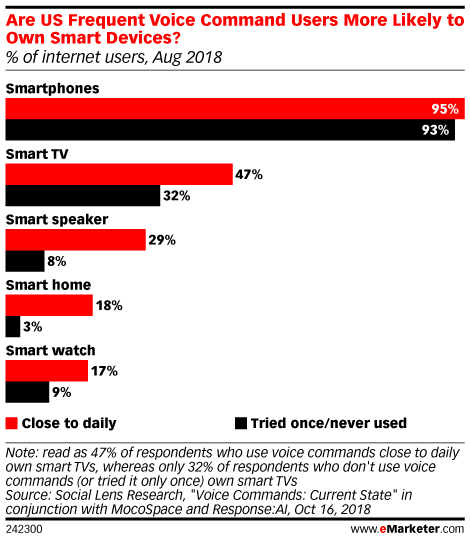 Though internet users in the US are becoming accustomed to using voice commands, it has yet to become a regular part of their routine. According to a Social Lens survey, 70% of respondents have used a voice command on any device at some point, but that figure dropped to one-third for those who said they used them every day.
Audience segmenting, ad targeting and data analysis are just some of the tasks that marketers are applying artificial intelligence to.
Alfredo Tan, chief digital and innovation officer at WestJet, explains how the Canadian airline created its new chatbot Juliet and early signals of success.
With investment in artificial intelligence poised to grow, people are finding creative ways to deploy the emerging technology. While AI is known for the way it automates various tasks from ad buying to song writing, it's greatest strength may be in how it helps business professionals quickly make sense of large amounts of information.
Emerging technologies may ease struggles that businesses have with analytics.
Though many digital banking users in the US still prefer to talk to a human for their financial needs, a recent study from Humley found that a good number are also turning to chatbots.
As visual search moves from novelty to legitimate discovery tool, consumes have raised their expectations for its utility and accuracy.
What does someone who already owns a voice-enabled smart speaker want this holiday season? Another smart speaker, of course.
For many consumers, tried-and-true devices are more exciting than the latest gadgets.
Getting AI products to operate correctly takes a lot more effort than just flipping a switch and letting a machine do the work.