Artificial Intelligence
---
Audience segmenting, ad targeting and data analysis are just some of the tasks that marketers are applying artificial intelligence to.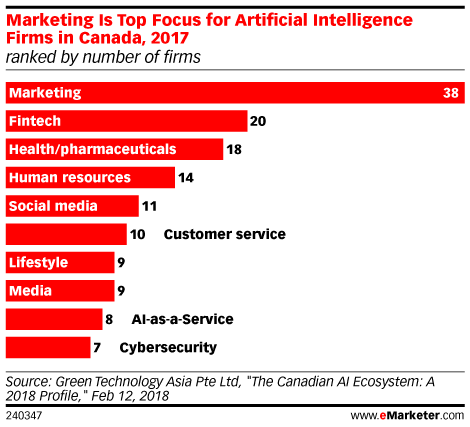 Google's executive chairman Eric Schmidt tweeted last fall that Canada "quadrupled down" on AI with a smart mix of four key elements: government, universities, large companies and startups.
Hossein Rahnama, founder and CEO of fintech AI firm Flybits, explains the benefits and challenges of virtual assistants for brands in Canada.
Blockchain's distributed ledger could potentially revolutionize digital advertising. But advertisers are cautious about whether the emerging technology will improve things.
The world is becoming more automated—from self-driving delivery vehicles to subscription commerce—but is tech creating convenience or concern for consumers?
At an eMarketer breakfast event yesterday, a panel of eMarketer analysts weighed in on Amazon and discussed the giant's future.
Pinterest launched visual search three years ago, and it now sees 600 million visual searches per month. eMarketer's Yory Wurmser spoke with Omar Seyal, head of discovery product at Pinterest, about what the platform has learned about consumer visual search behavior.
So far, targeting and audience segmenting are among the most common uses for the emerging technology.
The role of chatbots in ecommerce has evolved from a sales tool to a customer service assistant. When US internet users want to resolve a customer service issue quickly, more than half turn to chat, according to a CGS survey.
Pandora remains the most popular streaming music service in the US, according to eMarketer's new forecast, but Spotify's continued growth will change the balance of the market in coming years.