Artificial Intelligence
---

As baby boomers age and the 65-plus population expands, the need for healthcare services will increase rapidly. Heidi Culbertson, CEO of Marvee—a tech company that builds Alexa skills for aging adults—is among a group of healthcare providers and entrepreneurs betting that voice assistants can fill this need.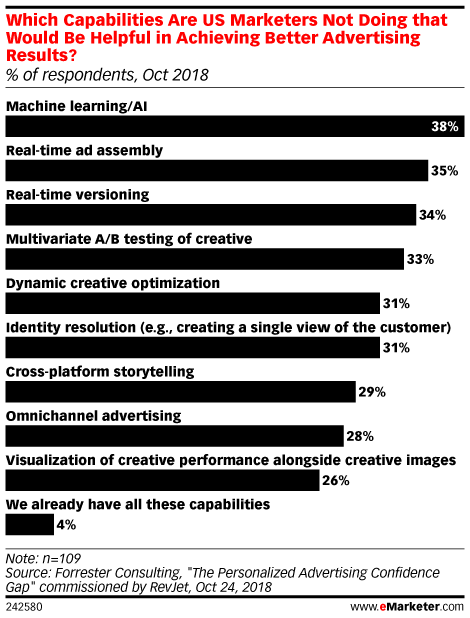 Among the capabilities that marketers are not yet deploying, those related to personalization were considered to be one of the most helpful tactics in improving advertising results, according to a study by RevJet and Forrester Consulting.
Alibaba's Singles' Day, China's massive ecommerce festival held annually on November 11, has grown to surpass pretty much every other online shopping event in the world.
Unsurprisingly, seniors are the least likely adults to use any voice technology. According to our estimates, 3.8 million seniors in the US will use a smart speaker this year.
Dynamic creative optimization (DCO) uses multiple data feeds to create a personalized ad experience. To get the most out of those feeds, marketers can employ artificial intelligence (AI) to automate multiple facets of DCO. Prajwal Barthur, InMobi's director of products for advertising platforms, talked to eMarketer's Nicole Perrin about how marketers can take advantage of AI as they rely more on DCO for more personalized ad campaigns.
Younger Gen Xers and older millennials behave similarly when it comes to smart speakers. Like millennials, Gen Xers are also early adopters of the technology, though at a slightly lower level.
Nearly three in 10 US voice assistant users ask their device to find neighborhood shops, restaurants and businesses, according to a Chatmeter survey.
Kids and teens may not be old enough to buy a smart speaker, but that's not stopping them from spending a lot of time with voice technology.
Though internet users in the US are becoming accustomed to using voice commands, it has yet to become a regular part of their routine. According to a Social Lens survey, 70% of respondents have used a voice command on any device at some point, but that figure dropped to one-third for those who said they used them every day.
Google's executive chairman Eric Schmidt tweeted last fall that Canada "quadrupled down" on AI with a smart mix of four key elements: government, universities, large companies and startups.