Artificial Intelligence
---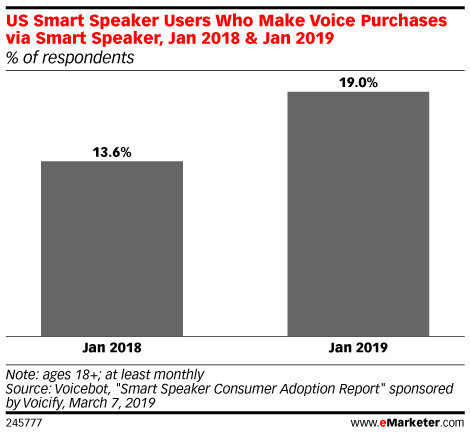 Monthly purchases made via smart speakers rose by 5.4% year over year in the US, per January 2019 data from voice tech companies Voicebot and Voicify. However, those who shopped using voice accounted for less than one-fifth of smart speaker users.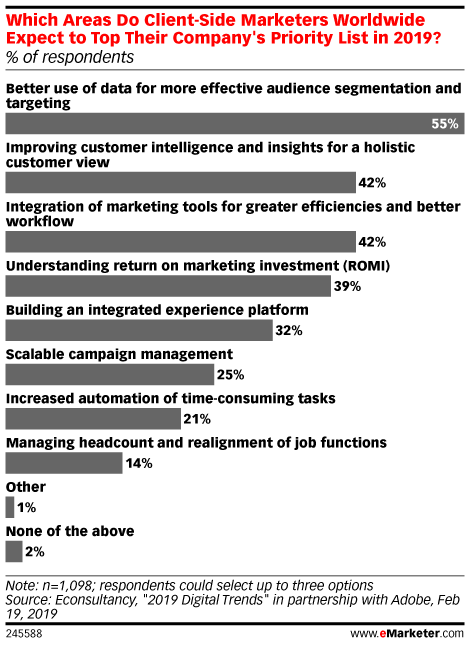 The push for more effective ad targeting remains one of marketers' chief occupations. More than half of client-side marketers surveyed by Econsultancy and Adobe said leveraging data for more effective segmentation and targeting is among their top three organizational priorities this year.
Training an artificial intelligence (AI) algorithm requires data—lots of data. But staying GDPR-compliant while acquiring that data can be almost impossible.
In this Meet the Analyst webinar, we explore how artificial intelligence (AI) technologies are disrupting core marketing and advertising functions. During this webinar, we'll discuss how to navigate the wide array of solutions and avoid potential pitfalls, including five best practices for using AI in your company's operations.
As use of AI grows (27% of executives in a PwC study have already implemented AI), so do calls for ways to interpret how AI models make decisions. This has given rise to a new buzzword: explainable AI, which refers to algorithms that make decisions humans can explain. PwC, for example, says it "integrates risk mitigation and ethical concerns into algorithms and data sets from the start."
Retail executives and consumers in the US, the UK and Australia have widely disparate expectations about artificial intelligence's (AI) and virtual reality's (VR) effects on the retail sector
China's tech-driven retail revolution is turning stores into laboratories for retail experiments and introducing consumers to completely new shopping experiences.
As new voice tech has emerged, functions normally embedded in phones have begun shifting to smart headphones, aka hearables.
In 2019, 5.8 million people in Canada will use a smart speaker at least once a month. That's a 51.2% increase from 2018, according to eMarketer estimates.
Consumers in the market for a smart speaker have more options than ever, and Amazon will lose some of its majority share as a result.