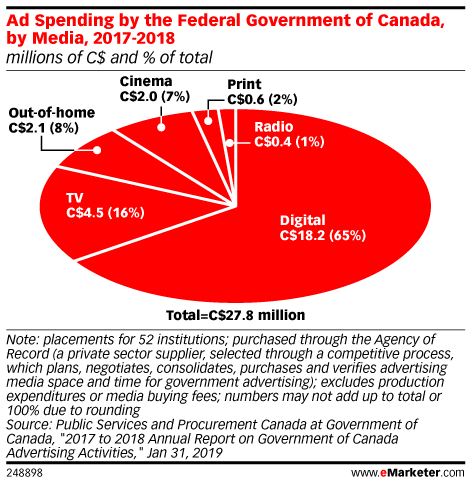 Digital campaigning is crucial to candidates running for election worldwide, and it's no different in Canada. But new requirements—which kicked in earlier this summer—mean that political parties need to be more efficient with their ad dollars. With the upcoming federal election happening in October, here's what you need to know about the Elections Modernization Act (EMA).
eMarketer junior forecasting analyst Nazmul Islam shares our digital ad spending numbers in India and the impact of Facebook, Google and local sites.
The consumer packaged goods (CPG) industry in the UK has to deal with not only Brexit effects, but also strong competition from retailers' own-label products. As such, we predict that this industry will see a diminishing share of the digital ad spend market through 2020.
eMarketer principal analysts Nicole Perrin and Mark Dolliver join vice president of content studio Paul Verna to discuss Verizon's sale of Tumblr to Automattic, the acceleration of cord-cutting, Facebook's new movie ads, Snapchat's third pair of sunglasses and more.
In just a few short years, Siri, Alexa and Google Assistant have gone from being virtual unknowns to familiar household names. As these voice assistants—and others—continue to gain traction on smartphones and smart speakers, the market is expanding quickly. Voice-control technology has officially moved out the early-adopter phase and into the mainstream.
eMarketer analyst Ross Benes and vice president of content studio Paul Verna discuss the potential impact of Disney's new streaming bundle. They also explain why the CBS/Viacom merger matters, where Americans like the stream video and UK media regulations.
eMarketer principal analyst Yory Wurmser explains why Huawei is rolling out a proprietary open-source operating system, the iPhone sales slowdown, Uber's imminent need to turn things around and how Google is making it easier for users to navigate walking directions with the help of augmented reality.
In Canada, podcasts are increasingly becoming part of advertisers' content marketing menu, and many brands are investing in podcasts to deliver branded or sponsored content. And there's good reason for them to do so: According to the Reuters Institute for the Study of Journalism, about a third (29%) of internet users in Canada listen to podcasts.
Last month, Amazon held its fifth annual Prime Day event to honor its Prime members with steep discounts and deals across a range of products and categories. This year's midsummer shopping event—extended to 48 hours and held on July 15 and 16—racked up record sales, further cementing Amazon's ecommerce leadership position, while creating incremental opportunities for sellers and competing retailers.
eMarketer senior forecasting analyst Cindy Liu breaks down our Facebook audience numbers for key age groups and a silver lining for the social network.