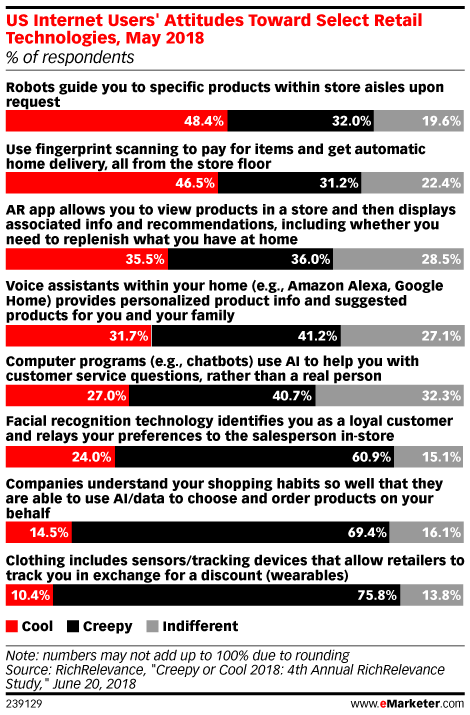 In China, consumers can "smile to pay" in some stores, but in the US, facial recognition systems for shopping are more theory than fact. Will that change? In today's episode of "Behind the Numbers," we sit down with Peter Trepp, CEO of facial recognition software firm FaceFirst.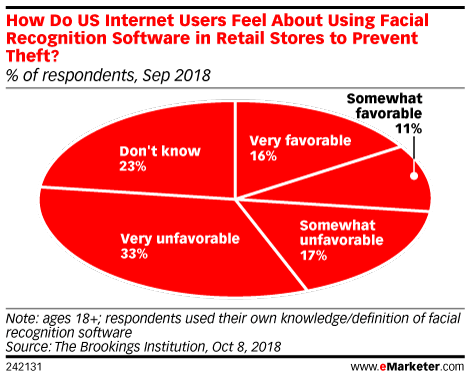 Half of US internet users have concerns about facial recognition, according to data from The Brookings Institution.
Data science and analytics will be the technical skills most needed at ad agencies in the next two years, according to a poll by Marketing Land.
The belief that consumers crave more targeted, personalized ads has become a digital advertising mantra. But it's not entirely true.
What happens when you add the letter 'E' to 5G, as AT&T is planning to do by changing the LTE symbol to 5GE?
In large organizations, departments are often not designed or encouraged to work together. And the only way to fix this is with the support of top-level management.
Companies may know that more advanced attribution practices are needed to prove marketing value in today's complex media world, but that doesn't mean they understand, or easily embrace, these practices.
In the latest episode of "Behind the Numbers," we hear from eMarketer's digital video expert, Paul Verna, who recently interviewed industry experts and practitioners to find out what's working in digital video advertising. He shares their wisdom of navigating the challenges of creating a successful video ad campaign.
In the latest episode of "Behind the Numbers," we look at some of the products that debuted at Mobile World Congress this week. Is mobile really a "thing" anymore?
In the latest episode of "Behind the Numbers," we take a look at the Academy Awards show, which reversed a string of audience losses even as it jettisoned a traditional hosting role. Who was watching, why, and how does digital intersect with the Oscars?