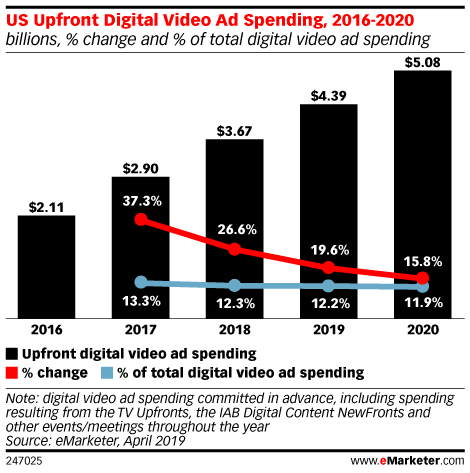 On the week of the TV upfronts, we're joined by eMarketer's vice president of multimedia Paul Verna to discuss why this annual event is still a big deal in the television industry. After all, isn't TV ad spending trending downward? And wasn't streaming supposed to be the death knell of TV?
In this Meet the Analyst Webinar, eMarketer principal analyst Yoram Wurmser discusses how location data and consumer attitudes toward its use have evolved over the past year.
In an IAB poll of marketers, half of the respondents defined OTT as streaming video that appears on any screen and 48% defined OTT as streaming video that appears on a TV screen.
eMarketer senior forecasting analyst Oscar Orozco shares our latest time spent numbers for tablets and why once-popular tablet activities like video viewing and shopping are becoming preferred elsewhere. Watch now.
Building a social media following isn't just a great way to engage customers online, it can also help increase brick-and-mortar foot traffic.
Despite marketers' efforts with advanced programmatic and data targeting for video ads, consumers still find that they are more likely to be served a relevant ad on linear TV.
Social media principal analyst Debra Aho Williamson discusses Facebook co-founder Chris Hughes' recent op-ed on breaking up the company he helped create with Mark Zuckerberg. What is Hughes proposing? Just how powerful is Facebook? And what should the government's role be in regulating it?
Finding the right balance when serving personalized content to consumers can be tricky. But marketers that do this successfully understand that fostering better communication with their target audience is key.
While the vast majority of TV advertising is still bought and sold through traditional methods, change is happening, and vendors don't want to miss out.
eMarketer senior forecasting director Monica Peart breaks out our latest US time spent numbers for connected devices, an update from our previous outlook. Watch now.