Retail & Ecommerce
---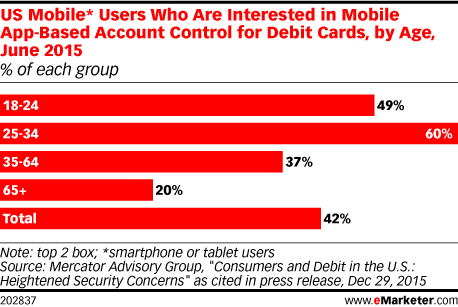 Nearly half of US mobile users are interested in mobile-based account control for debit cards, like tools to help them control their spending and avoid fraud.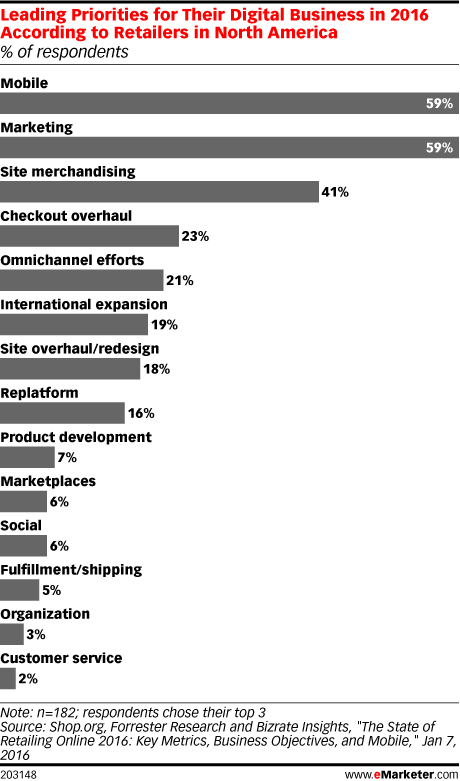 Retailers are concentrating on a variety of initiatives in 2016. Mobile—like responsive design and app development—as well as basic marketing activities—including search optimization and customer acquisition—are top on their list.</p>
Magnus Jern, president of the Mobile Application Solutions Division at DMI, a creator of mobile apps for global brands, discusses how consumers are using mobile apps to influence purchasing decisions, conducting research and shipping in-store purchases to their doorstep.
Retailers like Wal-Mart, Target and Walgreens made significant sales gains in 2015, and are expected to be still bigger by 2020. Amazon, another top retailer, is projected to have the highest growth, according to 2015 estimates.
More digital buyers are researching products on the day of purchase than before or after it, according to 2015 data.
Loyalty program members in the UK want rewards, according to Q3 2015 research. Most internet users only belong to a handful of programs, and they want clear perks from them.
Digital shoppers in Canada have made mobile a part of their path to purchase, but a solid majority of sales still come from the desktop, according to research. Organic search and referral traffic are helping to drive the most transactions.
eMarketer estimates that Spain was home to 17.5 million people who made at least one purchase via digital channels in 2015. This year, eMarketer forecasts that figure to reach 18.5 million, with 62% of all internet users in Spain spending a collective $17.9 billion on retail ecommerce purchases.