Artificial Intelligence
---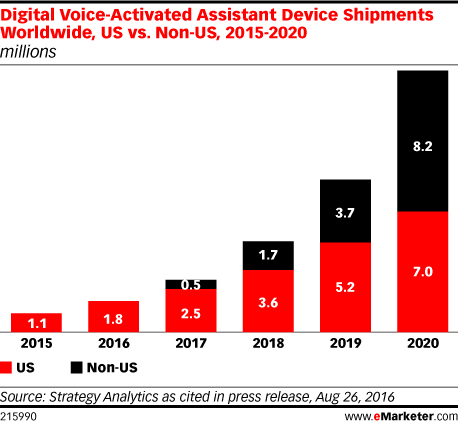 The Echo Dot was Amazon's best-selling product this year, signaling widening consumer comfort with spoken commands and queries.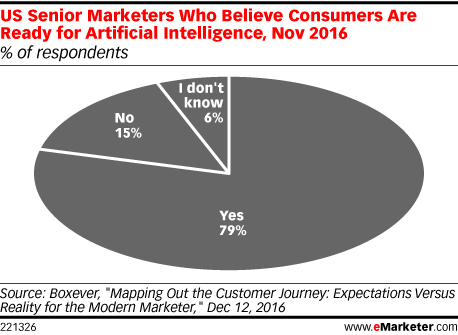 Artificial intelligence had a breakthrough year in 2016, not only with machine learning, but with public awareness as well. And most marketers believe consumers are ready for the technology.
Artificial intelligence (AI), in its most widely understood definition, involves the ability of machines to emulate human thinking, reasoning and decision-making. Though AI continues to develop and become more sophisticated, internet users worldwide are seeing benefits of the technology, like its ability to complete dangerous tasks, or even the companionship it provides.
Artificial intelligence (AI) is already becoming entrenched in many facets of everyday life, and is being tapped for a growing array of core business applications, including predicting market and customer behavior, automating repetitive tasks and providing alerts when things go awry. As technology becomes more sophisticated, the use of AI will continue to grow quickly in the coming years.
Roughly half of marketing and media executives in North America said they believe predictive analytics and modeling to be one of the most helpful technologies for getting more value out of data, August 2016 research found.
Artificial intelligence (AI) is helping bring discovery back to the travel research process. Phil Koserowski, vice president of interactive marketing at The Leading Hotels of the World (LHW), told eMarketer's Maria Minsker how.
easyJet uses artificial intelligence (AI) technology to help stock and reduce food waste in its planes. Alberto Rey Villaverde, the airline's head of data science, told eMarketer how it works.
Last year, nearly half of US executives said their company was in the deployment phase of production for predictive analytics. However, their efforts haven't translated to successful deployments a year later, research found.
More client-side marketers and agency professionals are investing in predictive analytics technology, according to research. Proponents of the emerging discipline suggest they use the toolset to help improve engagement, develop insights and personalize their communications with customers.
A typical brand now has a staggering amount of data in its arsenal, and the marketing department's goal is to use that data to deliver more effective results than ever before. Enter predictive marketing, which uses machine learning to deliver more accurate insights about how best to encourage sales from existing and new customers. Topics in this webinar include: What marketers are doing with predictive models; How many companies have moved toward predictive marketing, and how far along they are; What the return on investment (ROI) of predictive marketing can look like; Which challenges are proving difficult for adopters of predictive marketing.