Artificial Intelligence
---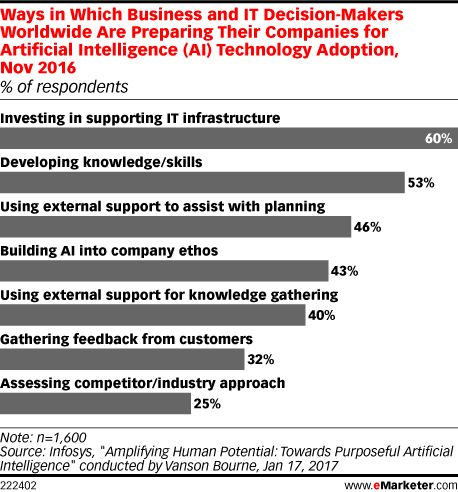 Investing in infrastructure is a priority for companies ramping up for AI, but it's hardly the only priority.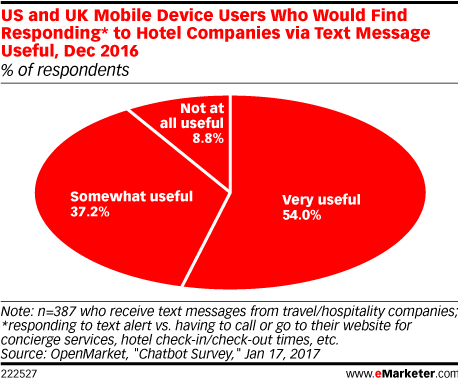 Chat-based messaging apps are gaining favor with travelers, who find that they offer a number of potential benefits when staying at hotels.
Retailers adding online chat and mobile messaging options to their customer service arsenal are likely to be rewarded. According to December 2016 research, roughly 30% of consumers favor these types of digital alternatives when they have questions about potential purchases.
The Echo Dot was Amazon's best-selling product this year, signaling widening consumer comfort with spoken commands and queries.
As businesses come to terms with tapping into artificial intelligence (AI) to improve operations, one key concern for B2B marketers is how it will be integrated effectively.
Artificial intelligence (AI), in its most widely understood definition, involves the ability of machines to emulate human thinking, reasoning and decision-making. Though AI continues to develop and become more sophisticated, internet users worldwide are seeing benefits of the technology, like its ability to complete dangerous tasks, or even the companionship it provides.
Artificial intelligence (AI) is already becoming entrenched in many facets of everyday life, and is being tapped for a growing array of core business applications, including predicting market and customer behavior, automating repetitive tasks and providing alerts when things go awry. As technology becomes more sophisticated, the use of AI will continue to grow quickly in the coming years.
Roughly half of marketing and media executives in North America said they believe predictive analytics and modeling to be one of the most helpful technologies for getting more value out of data, August 2016 research found.
TD Ameritrade's AJ Mazza, director of client marketing, advertising and brand management, and Dedra DeLilli, director of social media and corporate sponsorships, advertising and brand management, discuss how the investment bank uses artificial intelligence technology.
easyJet uses artificial intelligence (AI) technology to help stock and reduce food waste in its planes. Alberto Rey Villaverde, the airline's head of data science, told eMarketer how it works.