Artificial Intelligence
---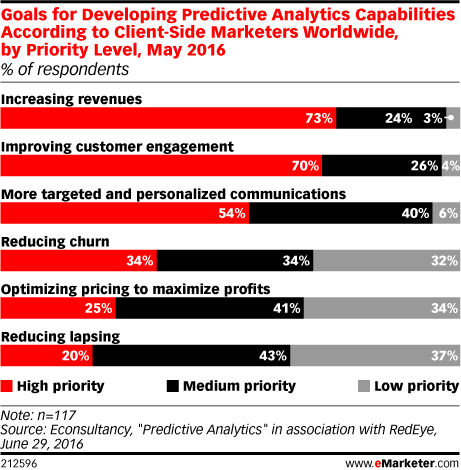 More client-side marketers and agency professionals are investing in predictive analytics technology, according to research. Proponents of the emerging discipline suggest they use the toolset to help improve engagement, develop insights and personalize their communications with customers.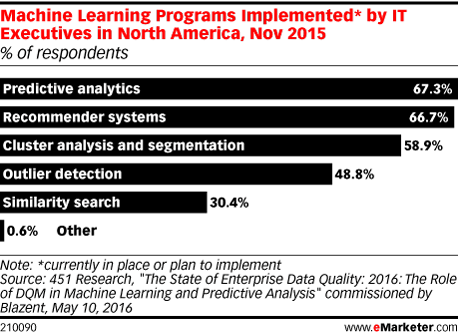 Many IT executives in North America currently have—or plan to have—machine learning programs in place, according to research. Predictive analytics is the No. 1 implementation, but execs have dozens of use cases on their agendas.
Antti Pasila, founder and chief strategy officer of advertising automation company Kiosked, spoke to eMarketer about why advertising and artificial intelligence go hand in hand.
A typical business-to-business (B2B) brand now has a staggering amount of data in its arsenal, and the marketing department's goal is to use that data to deliver more effective results than ever before. Enter predictive marketing, which uses machine learning to deliver more accurate insights across the funnel to encourage sales from existing and new customers.
Justin Cutroni, Google analytics evangelist, discusses the Google Analytics 360 marketing cloud suite and how the company approaches machine learning.
While almost two-thirds of bad bots worldwide behave like bots, roughly 40% are able to mimic human behavior, according to 2015 research.
Chris Ciccarello, senior director of pricing and customer analytics at Farmers Insurance Group, explains how predictive analytics help strengthen the brand's personalization efforts.
Consumers are regularly turning to their mobile devices to search, and personal assistants like Siri can help them in the process. But according to research, few mobile phone owners actually use a voice-controlled personal assistant regularly.