Demographics
---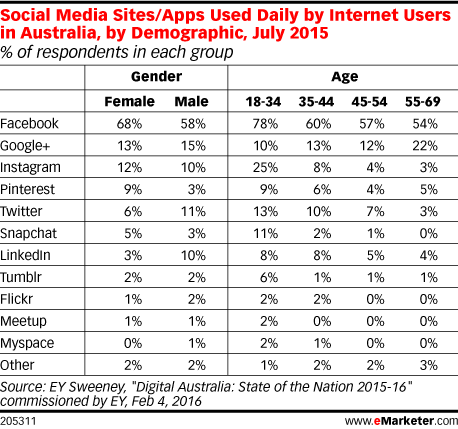 Both age and gender have an effect on the social media activities of internet users in Australia, with women and younger adults most likely to report daily access to Facebook, the country's leading social destination. Research also suggests different social sites serve different purposes for the Australian audience.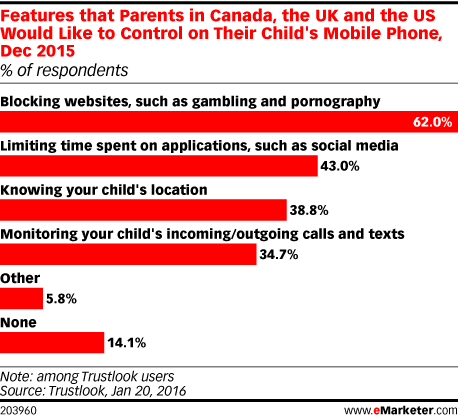 Like adults, children are increasingly connected to the digital world. And while parents are granting them usage of these devices, they also want features on there that they can control.
Most smartphone users in Japan turn to apps for information about what's going on in the world—at least for a few minutes a day, according to December research. Penetration is highest among men and older users.
The vast majority of women in Japan who have a new baby or toddler buy baby items online at least sometimes—but according to 2015 research, they're also still heavily reliant on offline purchase channels.
The bulk of online video viewing time in Colombia is down to male viewers, according to 2015 data. Across all adult age groups, men spend substantially more time viewing video, in aggregate, than women.
Facebook is the place to reach millennials of all political persuasions, according to November 2015 research. Other sites are more likely to skew Democratic, and even though most voters don't rely on social for political info, it's a key place for campaigns to reach them.
Millennials are more likely to be heavy cosmetics buyers than their older counterparts, according to November 2015 research. Higher incomes also pointed to heavier cosmetics purchasing.
Millennials are the most active video viewers of any US age group, and according to research from TiVo, this demographic primarily watches TV shows.
Alexandre Sagakian, vice president of research and data at Qriously, discusses how college students engage with ads.
Shopping at brick-and-mortar stores has long been a rite of teen passage in the US—though socializing may be at least as important as the shopping itself. But teens, like millennials before them, now prefer shopping via digital channels, according to one survey.