Demographics
---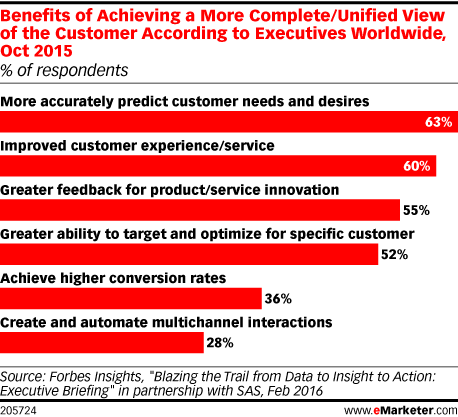 Predictive marketing is becoming important among marketers. In fact, more than six in 10 executives worldwide said that achieving a more complete view of the customer helped them more accurately predict customer needs and desires. That made it the leading benefit of a unified customer view.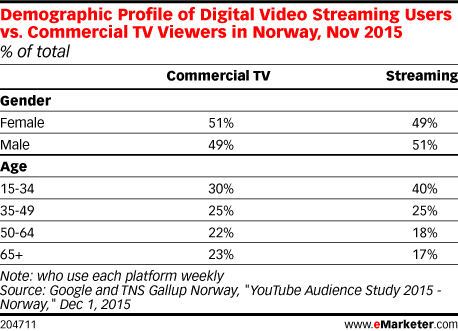 Both the commercial TV and streaming audiences in Norway are virtually evenly split between male and female TV viewers.
Lauren Fitzgerald, managing director at The Mom Complex, details how mothers engage with social media, respond to ads and navigate other aspects of digital.
Chris Thorne, CMO of The Honest Company, an eco-friendly retailer, talks about engaging with millennial mothers and discovering what they value.
Data privacy has been a big news item of late. The VTech hack in November last year was particularly troubling for parents, but with mobile devices now so pervasive, it's becoming increasingly difficult for them to tell their kids "no."
Both age and gender have an effect on the social media activities of internet users in Australia, with women and younger adults most likely to report daily access to Facebook, the country's leading social destination. Research also suggests different social sites serve different purposes for the Australian audience.
Most parents in Japan say they let their kids use a smartphone at least sometimes. According to 2015 research, children use the devices most to consume visual media—and the time they spend doing so doesn't add up to much.
Most smartphone users in Japan turn to apps for information about what's going on in the world—at least for a few minutes a day, according to December research. Penetration is highest among men and older users.
The vast majority of women in Japan who have a new baby or toddler buy baby items online at least sometimes—but according to 2015 research, they're also still heavily reliant on offline purchase channels.
The bulk of online video viewing time in Colombia is down to male viewers, according to 2015 data. Across all adult age groups, men spend substantially more time viewing video, in aggregate, than women.