Social Media
---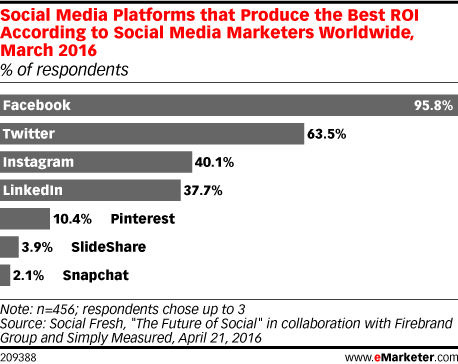 Nearly all social media marketers believe Facebook produces the best ROI and is essential to social media marketing success, a March 2016 survey revealed.
Some brands place viewability at the top of the marketing totem pole, but for Huawei Technologies, appropriate targeting is paramount in an environment challenged by ad blocking.
Kathleen Bell, director of marketing at Subway Canada, talks about the sandwich chain's online engagement strategy and the effectiveness of social media cross-promotion.
eMarketer expects 2016 to be the last year of double-digit growth in the user base of the world's largest social network, as the population of Facebook reaches 1.43 billion monthly users by the end of the year. But the No. 2 ad publisher in the world still has plenty of revenue opportunity.
Björn Ollhäuser, online and social media marketing specialist at BMW, explains why the brand has embraced some social networks but has steered clear of others.
Digital wallets were the most popular topic when it came to discussions on social media about mobile payments in 2015. According to social tracking data, just 3% of such posts were about other topics, which included contactless cards and more.
Facebook's reach in Mexico is near-total and, what's more, users visit the site more frequently than any other social media property.
Becky Brown, vice president of global marketing and communications and director of digital marketing and media group at Intel, explains how Twitter can be a powerful platform when video content is built around events and showcased with the right calls to action.
With the exception of China, Russia and a few other countries, Facebook continues to dominate the social network scene in major markets worldwide. The popularity of newer social networks like Instagram is increasing rapidly, but users tend to adopt those platforms in addition to Facebook, rather than as replacements.
Linda Duncombe, global head of digital, social and content marketing at Citibank, discusses the bank's evolving social video ad strategy.