Social Media
---

Mitch Mirsky, senior manager of digital brand development at New Era Cap Co., which provides caps to professional sports teams, talks about the value of influencers on up-and-coming social channels such as Instagram, Vine and Snapchat.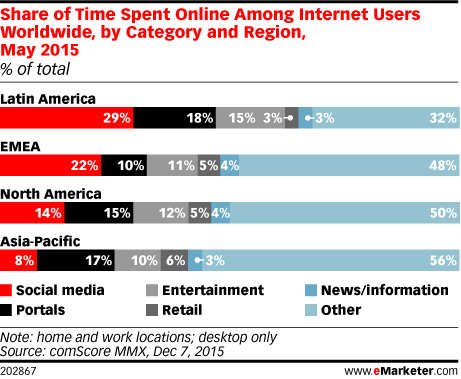 Internet users in Latin America spend more of their online time with social media than their counterparts anywhere else in the world, according to research from 2015. In Brazil, usage is especially high.
Facebook is the place to reach millennials of all political persuasions, according to November 2015 research. Other sites are more likely to skew Democratic, and even though most voters don't rely on social for political info, it's a key place for campaigns to reach them.
Many marketers are interested in how to engage consumers on social media. But not all users are interested, and even those who are can get turned off. According to October 2015 research in Spain, attitudes differ dramatically between users who do and don't follow brands.
Sina's Weibo social network is still increasing its popularity, especially in China, according to data released about its users in 2015. The vast majority of users are under 35.
Many brands prefer to upload their videos directly to Facebook, according to research from quintly. YouTube videos only make up roughly one-quarter of all videos posted by brands on the social network.
eMarketer estimates that Spain was home to 17.5 million people who made at least one purchase via digital channels in 2015. This year, eMarketer forecasts that figure to reach 18.5 million, with 62% of all internet users in Spain spending a collective $17.9 billion on retail ecommerce purchases.