Social Media
---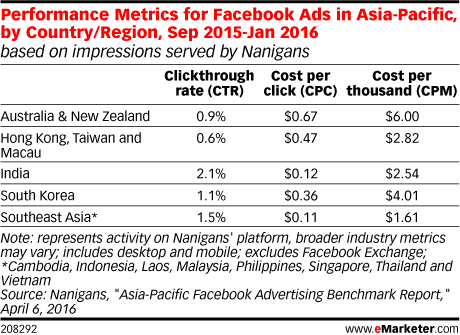 Data documenting Facebook ad performance in Asia-Pacific sheds light into the key markets helping drive the company's fortunes in the region. According to research from Nanigans, India and the countries of Southeast Asia delivered some of the strongest results.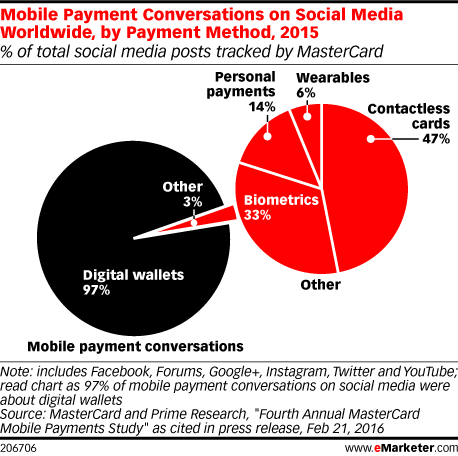 Digital wallets were the most popular topic when it came to discussions on social media about mobile payments in 2015. According to social tracking data, just 3% of such posts were about other topics, which included contactless cards and more.
Natalie Malaszenko, senior vice president of marketing at Overstock.com, compares social network platforms for video advertising.
Tina Mahal, vice president of innovation at Frito-Lay, talks about how the company leveraged different social channels for its Flavor Swap campaign.
West Elm repurposes user-generated content for ads and other marketing. Aaron Able, head of social media and content strategy, explains how.
Scott Braley, general manager of programmatic advertising at Ooyala, explains the effect of programmatic, social and mobile advertising on viewability metrics in the UK.
US small and medium-sized businesses (SMBs) use a variety of different metrics to gauge the success of their social media efforts. According to January 2016 research, many measure how well their efforts have done by the amount of views they get.
Mexico is an intensely social country, both online and offline. While overall internet uptake during the past decade has remained subdued, social media adoption and engagement among connected consumers has remained strong.
Social network users in the UK increasingly check in via mobile. An interesting side-effect of this trend is the rising incidence of people signing in to social media first thing in the morning before they get out of bed. Among women, in particular, this is becoming ever-more common.
Twitter has been focusing on efforts to attract more users to its service, but growth remains slow and the service is also still not materially monetizing logged-out users.