Video
---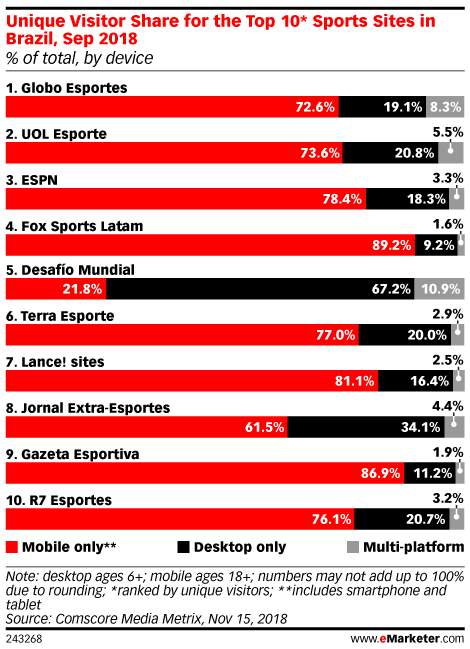 "Behind the Numbers" completes its investigation of sports streaming around the world with a look at two key Latin American markets, Brazil and Mexico. eMarketer's Paul Verna and Matteo Ceurvels discuss the platforms and opportunities for marketers.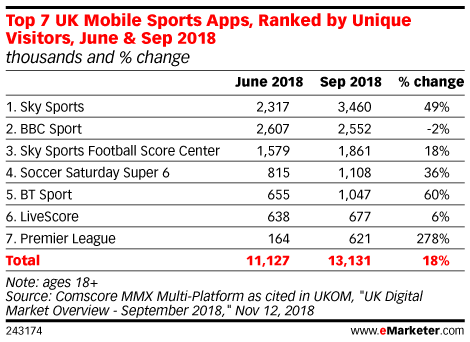 "Behind the Numbers" continues its weeklong investigation of sports streaming around the world with a discussion of Europe's major markets. What platforms and programming are most popular in the UK, France and Germany, and how large are their audiences?
This week, "Behind the Numbers" is all about sports—streaming sports, that is. In the first episode of a five-part series, we focus on the US market, breaking down sports-streaming platforms, audiences and revenues. eMarketer's Paul Verna and Paul Briggs join host Marcus Johnson for the discussion.
Roku, the David to the connected-TV-device Goliaths (Apple, Amazon and Google), is differentiating itself by expanding its advertising business.
In the latest episode of "Behind the Numbers," mobile analyst Rahul Chadha breaks down eMarketer's latest estimates for the booming mobile video advertising market, and digs into the underlying drivers.
How big is the audience for Facebook's video channel, Facebook Watch, and how has the social network's video strategy evolved? In the latest episode of "Behind the Numbers," analysts Debra Aho Williamson and Paul Verna discuss Facebook's various video efforts and how they stack up against the competition.
For Netflix, 2018 marked another year of double-digit audience growth in the US, and its movie ambitions threatened to shake up cinema in the way that it has already shaken the TV industry. In this "Behind the Numbers" playlist, you can track Netflix's progress around the world, as well as its stumbles.
Facebook Watch users still make up a small percentage of total worldwide Facebook users. Can the video service compete with the likes of Youtube and Netflix?
Mobile video advertisers are on the hunt for ways to make their ads more engaging, and not just another commercial consumers have to tolerate. Rewarded video ads—also known as value exchange ads—seem like the answer, but are the benefits worth the cost?
The number of boomers watching digital video on a monthly basis might not be as high as younger generations, but the 37.7 million who will do so this year are more likely to use computers and streaming services than their smartphones.