Video
---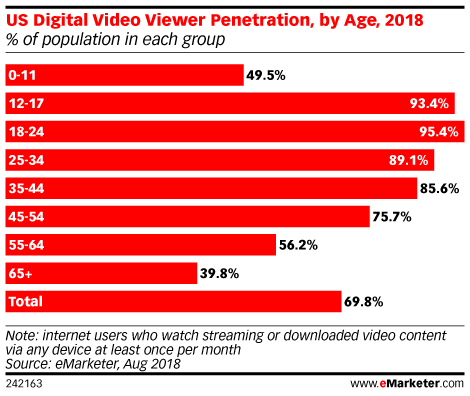 In the latest episode of "Behind the Numbers," eMarketer forecasters Oscar Orozco and Showmik Podder dig into our latest estimates for worldwide digital video usage. Where are the fastest growth rates, and what, if anything, is holding back video consumption?
Mobile video advertisers are on the hunt for ways to make their ads more engaging, and not just another commercial consumers have to tolerate. Rewarded video ads—also known as value exchange ads—seem like the answer, but are the benefits worth the cost?
The number of boomers watching digital video on a monthly basis might not be as high as younger generations, but the 37.7 million who will do so this year are more likely to use computers and streaming services than their smartphones.
This year, 64.8 million millennials will watch digital video at least once a month, according to eMarketer estimates. That figure will continue to increase year over year, reaching 66.8 million by 2022.
This year, we expect 46.0 million US households will use a smart TV at least once per month, a 16.0% increase from 2017.
This year, we expect 170.1 million people in the US will use a subscription OTT service, like Netflix—making up 60.8% of internet users.
In the second part of our three-part podcast series on the shifting TV and digital video ecosystem, we're focusing on the audience. Analyst Paul Verna talks about mobile viewers, cord cutters, connected TV watchers and more.
In the first of a three-part series on digital video and TV, analyst Paul Verna breaks down the data on ad spending and subscription fees. When will digital video ad spend catch up with TV ad spend? How much subscription income is flowing into services like Netflix and Hulu?
Although connected TV advertising makes up a small portion of overall video ad spending, and has its share of challenging dynamics, it's expected to grow in the coming years as audiences continue to embrace digital streaming on their living room screens. Paul Verna, eMarketer's principal analyst, video, examines the connected TV space through the lens of advertising opportunities and challenges.
This year will mark a milestone for digital video advertising in the US, according to eMarketer's latest ad spending forecast. In 2018, video will grow nearly 30% to $27.82 billion. That means video ad spending will make up 25% of US digital ad spending.