Video
---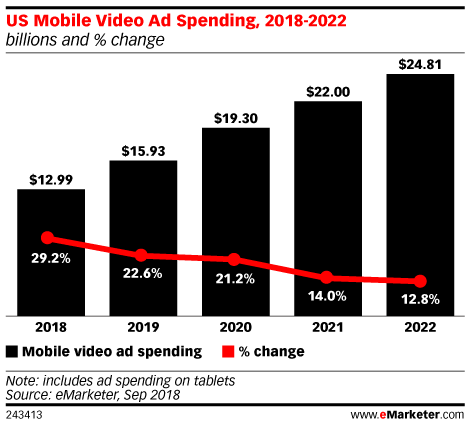 In the latest episode of "Behind the Numbers," mobile analyst Rahul Chadha breaks down eMarketer's latest estimates for the booming mobile video advertising market, and digs into the underlying drivers.
The TV and OTT landscapes continue to shift and slide as consumers adopt digital video and streaming options, and the companies producing long-form content make bets on where audiences will spend their time. Here are eight digital video market predictions for 2019.
For Netflix, 2018 marked another year of double-digit audience growth in the US, and its movie ambitions threatened to shake up cinema in the way that it has already shaken the TV industry. In this "Behind the Numbers" playlist, you can track Netflix's progress around the world, as well as its stumbles.
Facebook Watch users still make up a small percentage of total worldwide Facebook users. Can the video service compete with the likes of Youtube and Netflix?
Mobile video advertisers are on the hunt for ways to make their ads more engaging, and not just another commercial consumers have to tolerate. Rewarded video ads—also known as value exchange ads—seem like the answer, but are the benefits worth the cost?
In the latest episode of eMarketer's "Behind the Numbers," analysts Gerard Broussard and Paul Verna discuss the reasons ad spending on advanced TV is growing—and why it still hasn't fully taken off yet.
Just like their younger cohorts, Gen Xers are shifting their viewing habits from traditional TV to digital video.
While kids are not likely to own a smartphone or have a large social media presence, video dominates their digital activity.
In the latest episode of "Behind the Numbers," we dig into a new study about YouTube usage. What kinds of content are users consuming, and what drives additional views?
In the final episode of our three-part series on the TV and digital video ecosystem, analyst Paul Verna focuses on the question of content. How much content is being created and who are the leading creators? Can the torrid pace of creation continue, or will it ease up?