Video
---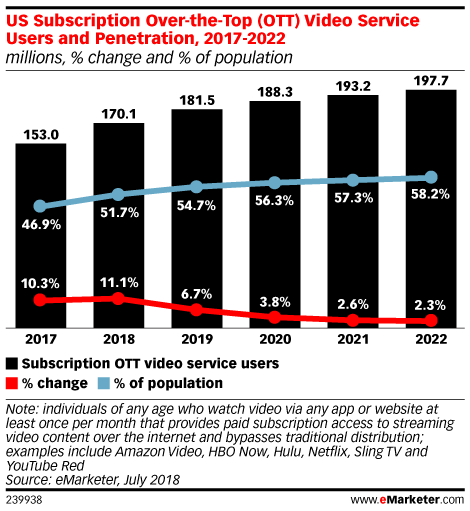 A record number of US consumers will have pulled the plug on pay TV by the end of 2018. In order to slow the viewer exodus, traditional TV providers are teaming up with an unlikely partner: Netflix.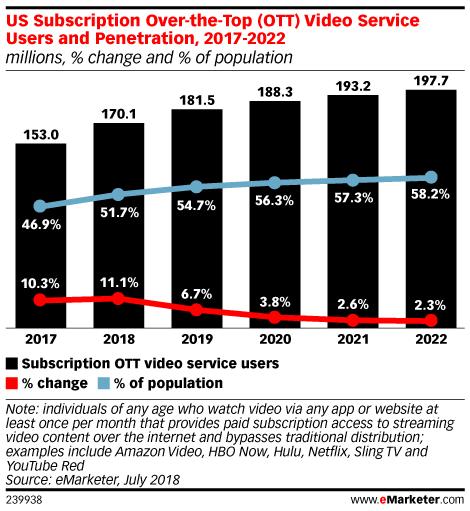 How large is the market for subscription video services like Netflix and Amazon Prime, and what impact are they having on the pay TV sector? In today's "Behind the Numbers," eMarketer analysts and forecasters dig into the latest forecasts and discuss the factors that are changing the ways consumers watch video.
How are video viewing habits changing around the world, and how big a presence is Netflix? In the latest episode of "Behind the Numbers," eMarketer's Shelleen Shum discusses global video trends, intriguing regional patterns and the importance of local language content.
Even as traditional pay TV providers form partnerships with former over-the-top rivals to retain customers, cord-cutting continues to outpace projections. According to eMarketer's latest figures, the number of US adult cord-cutters will climb 32.8% this year to 33.0 million. That's higher than the 22.0% growth rate projected in July 2017.
In the latest episode of eMarketer's "Behind the Numbers" podcast, analysts Paul Verna and Yory Wurmser dig into the audience data for this year's World Cup, and consider the future of soccer on digital.
Sameer Bandeali, digital and ecommerce marketing manager for Maple Leaf Foods, discusses why the company is reshuffling its ad spend to include video-on-demand advertising in 2019.
YouTube, Facebook and Twitter are providing new visibility into their monitoring practices and how they are pulling offensive content from their platforms.
Kristin Wozniak, vice president of analytics and insight at Wavemaker, discusses Canada's media streaming market and millennials' consumption habits.
Live streaming and short videos have become a greater focus for marketers and media agency professionals in China over the past year, according to a survey by AdMaster and TopMarketing.
YouTube has stepped up efforts to remove objectionable content, with millions of videos being pulled from the platform. But how is it making those choices, and how nimble is it about plucking out bad videos? In the latest episode of eMarketer's "Behind the Numbers" podcast, video analyst Paul Verna breaks down the data.