Video
---
Ad tech vendors are trying to make bank from the digitization of TV advertising.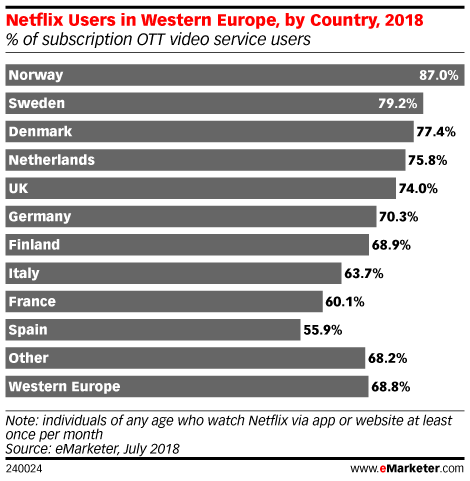 In primarily English-language countries, Netflix has a clear track record of success, with a majority of over-the-top users in those markets using its services. But if it hasn't filled out its slate of localized content, adoption is slower.
In the latest episode of "Behind the Numbers," eMarketer analyst Paul Verna talks about why Netflix has started showing promotional videos, and how subscribers have reacted to the commercial-like format.
How large is the market for subscription video services like Netflix and Amazon Prime, and what impact are they having on the pay TV sector? In today's "Behind the Numbers," eMarketer analysts and forecasters dig into the latest forecasts and discuss the factors that are changing the ways consumers watch video.
eMarketer expects there will be 13.3 million Netflix viewers in Canada this year, with viewers defined as individuals who watch Netflix via the app or website at least once per month. That figure is up 9.6% year over year.
Even as traditional pay TV providers form partnerships with former over-the-top rivals to retain customers, cord-cutting continues to outpace projections. According to eMarketer's latest figures, the number of US adult cord-cutters will climb 32.8% this year to 33.0 million. That's higher than the 22.0% growth rate projected in July 2017.
Nearly 765 million people across the globe will use a subscription over-the-top video service at least once per month this year, according to our latest forecast. This total will represent 10.2% of the global population and 32.1% of digital video viewers.
More people are streaming live video content than ever before, and many of these viewers are watching via social platforms, according to a May 2018 survey from the Interactive Advertising Bureau (IAB).
Kristin Wozniak, vice president of analytics and insight at Wavemaker, discusses Canada's media streaming market and millennials' consumption habits.