Video
---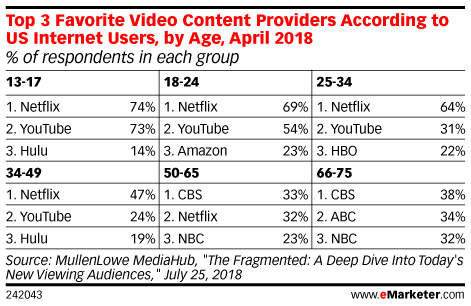 Just like their younger cohorts, Gen Xers are shifting their viewing habits from traditional TV to digital video.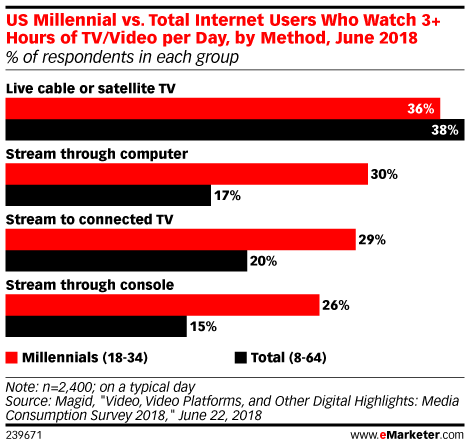 This year, 64.8 million millennials will watch digital video at least once a month, according to eMarketer estimates. That figure will continue to increase year over year, reaching 66.8 million by 2022.
In the latest episode of "Behind the Numbers," we dig into a new study about YouTube usage. What kinds of content are users consuming, and what drives additional views?
In the final episode of our three-part series on the TV and digital video ecosystem, analyst Paul Verna focuses on the question of content. How much content is being created and who are the leading creators? Can the torrid pace of creation continue, or will it ease up?
In the second part of our three-part podcast series on the shifting TV and digital video ecosystem, we're focusing on the audience. Analyst Paul Verna talks about mobile viewers, cord cutters, connected TV watchers and more.
In today's episode of "Behind the Numbers," eMarketer's Paul Verna breaks down Netflix's latest results and asks who are its most credible challengers in the streaming space?
eMarketer analysts walk you through today's video landscape with our latest forecasts.
US social network video ad revenues will grow sharply over the next several years, reaching $11.69 billion by 2020, according to eMarketer's new estimates. And one company in particular will win the lion's share: Facebook.
In primarily English-language countries, Netflix has a clear track record of success, with a majority of over-the-top users in those markets using its services. But if it hasn't filled out its slate of localized content, adoption is slower.
Scott Rosenberg, Roku's senior vice president and general manager of platform, spoke about how the digital video company approaches programmatic ad selling.