Video
---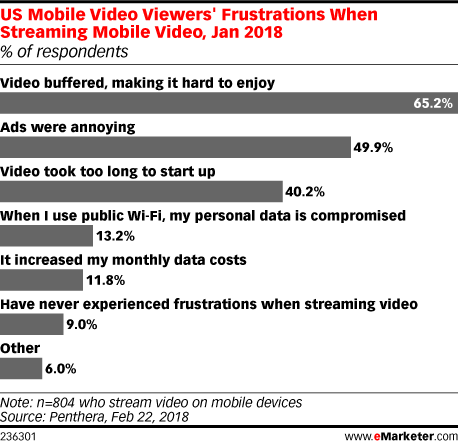 About 60% of the people Penthera surveyed said they're frustrated with their mobile video viewing experience at least half of the time.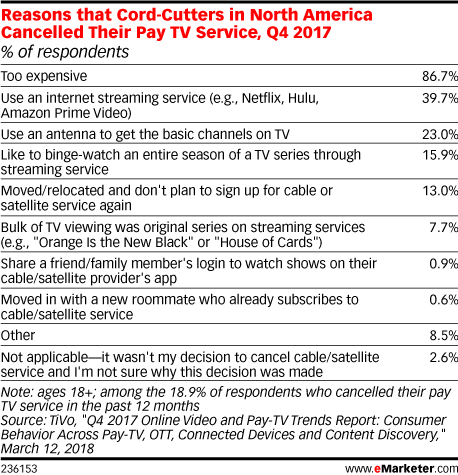 The high cost of TV service continues to be the most common reason adults in North America have cut the cord, according to TiVo survey data.
In the latest episode of "Behind the Numbers," eMarketer analyst Paul Verna discusses the winners and losers from the Academy Awards telecast, including TV ratings, ad rates and streaming video.
Brian Rifkin, co-founder of JW Player, discusses the technical issues that create latency with video ads.
This year, 1.87 billion people worldwide will watch digital video via mobile phone at least once per month, up 11.9% over 2017. These individuals will represent more than three-quarters of all digital video viewers.
A recent survey of internet users worldwide by Salesforce showed 81% of respondents watched broadcast TV at least monthly, more than any other format. But there are stark generational differences in the way they consume media, especially video.
Will 2018 be the year of connected TV advertising? Will the number of streaming services continue to grow or start to consolidate? eMarketer analyst Paul Verna discusses key video trends to expect this year in the latest episode of "Behind the Numbers."
Although some streaming services have incorporated ads into their platforms, research shows that advertising is anathema to most consumers watching content.
Luis Spencer Freitas, digital marketing director at Pernod Ricard USA, explains what will drive greater innovation in display advertising next year.
As social media video surges, marketers are developing new ways to measure the efficacy of campaigns that use the medium.