Video
---

Chris Dobson, CEO at The Exchange Lab, talks about how linear TV is trying to retain UK viewers, whose attentions are drifting across various platforms.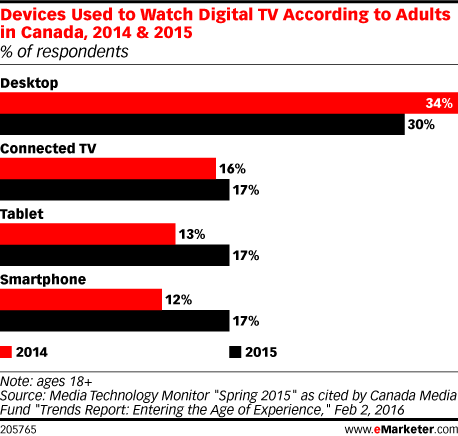 Internet users in Canada are becoming more connected, especially when it comes to video viewing, according to 2015 research.
More than three-quarters of millennials in Canada have binge watched TV in the past year, according to research.
The US digital video advertising market is on pace to nearly double by 2019. This growth will be led by an ongoing shift toward mobile viewing, a host of digital platforms that now prioritize video and a growing assortment of content against which to advertise.
Mobile video ads can be effective and valuable for many marketers, and eMarketer estimates that video will also command a large portion of ad spending allocated to digital. Publishers and advertisers are becoming more comfortable selling and buying mobile video programmatically, per research.
Demographics including age and gender play a significant role in digital video consumption in Japan, according to 2016 data. Men and internet users in their 30s are the most likely to view video—and a lot of it.
Netflix has further expanded its reach globally, making the service available everywhere in the world except China. Original content, which has helped the company become a video streaming destination, is likely driving its streaming revenues—which far exceed its DVD revenues.
Mobile messaging takes up a lot of smartphone time in China, where the average user has significantly increased time spent with their device in the past year. Online video viewing takes a distant second for smartphone time.
The number of original scripted TV shows has grown over the years, not only on basic cable, but services like Hulu and Netflix, which have become video streaming destinations because of their original content.
Video is taking over mobile data in the UK, according to 2015 data. The rise of 4G may be one reason, as eMarketer estimates two in five mobile phone users in the country will watch video this year.