Video
---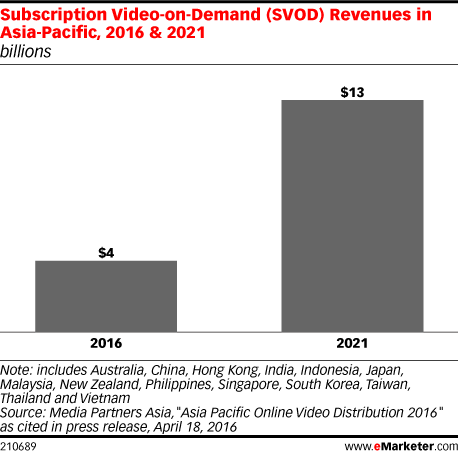 In just five years, one firm projects, revenues from video-on-demand (VOD) subscriptions in Asia-Pacific will more than triple, to $13 billion. Other research suggests the largest share of the region's viewers are in Japan—and will continue to be.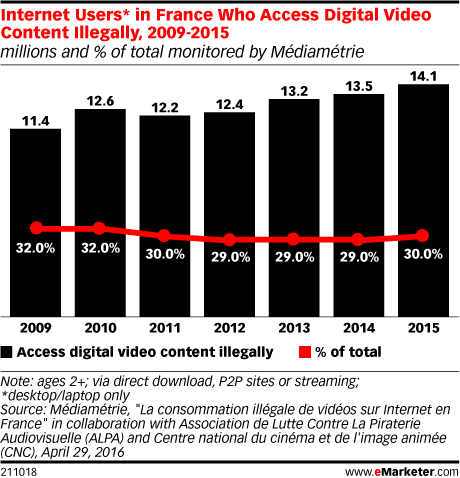 Over 14 million internet users in France visited sites offering pirated video during a typical month in 2015. Peer-to-peer sites increasingly share this trade in illegal content with direct download sites and streaming services.
Research into Malaysia's online video consumption habits suggests consumers' time spent watching the format may have hit a plateau, with the country's users expected to spend slightly less time watching per day in 2017 compared to 2016. A key gap in access to devices like laptops and tablets between Malaysia's urban and rural areas may help explain the decline.
US internet users say they learn more about politics from TV than anywhere else, and that TV ads are most likely to influence their voting behavior. But digital video is a growing source of political info</a> as well, and research suggests desktop-based video ads are the leading digital format for political campaigns from the local to the national level.
DVDs are falling out of fashion in the UK. Digital video downloads have played a part in their waning popularity, but streaming is becoming all-conquering, and by 2021 will account for over half of the UK home video market.
Facebook began pushing in-stream video about two years ago, which has led to consumers wanting more viewable and shareable content. Matthew Corbin, head of global product marketing at Facebook, spoke with eMarketer about how brands have capitalized on this, as Facebook optimizes its live streaming capabilities.
Subscription video-on-demand is the fastest-growing segment of in-home video entertainment. But physical formats—such as DVDs—still account for two-thirds of home video sales.
Kathleen Bell, director of marketing at Subway Canada, talks about the sandwich chain's online engagement strategy and the effectiveness of social media cross-promotion.
The top digital video platforms in Sweden are a mix of subscription-based and free services, offering a wide range of different types of programming. March 2016 research shows that YouTube is the clear leader, with more than one-third of internet users in the country on the platform every day.
Netflix continues to grow its user base in the US, with 126.9 million people expected to use it this year, according to eMarketer's latest forecast on OTT video usage. That equates to 67.9% of OTT video users. Among the OTT service providers eMarketer tracks, only YouTube has more users than Netflix—176.1 million, which equates to 94.3% of OTT users.