Video
---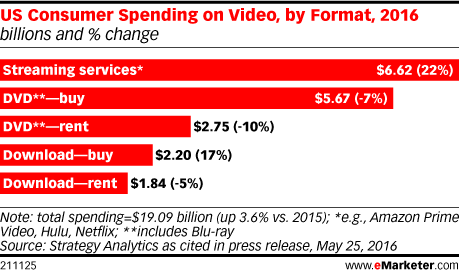 Consumer spending on streaming services will surpass spending on DVD purchases this year, according to one research firm. DVD sales and rentals are in decline, but still represent a larger slice of the video market than digital downloads.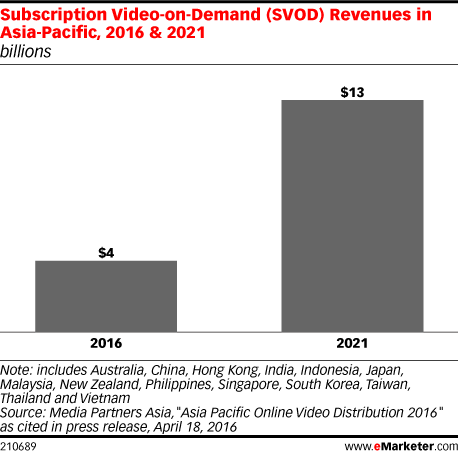 In just five years, one firm projects, revenues from video-on-demand (VOD) subscriptions in Asia-Pacific will more than triple, to $13 billion. Other research suggests the largest share of the region's viewers are in Japan—and will continue to be.
Research into Malaysia's online video consumption habits suggests consumers' time spent watching the format may have hit a plateau, with the country's users expected to spend slightly less time watching per day in 2017 compared to 2016. A key gap in access to devices like laptops and tablets between Malaysia's urban and rural areas may help explain the decline.
Subscription streaming giant Netflix is in the midst of a concerted global expansion effort, with the company launching its service in more than 130 new markets in 2016. But even as Netflix expands, it faces consumer challenges in markets such as Indonesia, where unreliable internet access and high rates of piracy may hold back adoption.
Mobile internet users spent 3.9% of their time watching videos on iQiyi, and 3.5% on Tencent video—far more time than they spent on any other video platform in 2015. Both apps are also growing their user bases rapidly.
On one major video ad platform, 60% of all campaigns in Q1 2016 were served across PCs, mobile devices and connected TVs. Only a handful, by contrast, were device-specific.
Some brands place viewability at the top of the marketing totem pole, but for Huawei Technologies, appropriate targeting is paramount in an environment challenged by ad blocking.
Jenna Pelkey, director of global media and marketing strategy at General Electric, talks about how the multinational conglomerate uses digital video tools and platforms to increase brand awareness.
Overall, just 12% of internet users in Japan say they use paid over-the-top (OTT) video services, according to March 2016 research. Though that figure seems low, it's just 10% less than the respondents who said they use cable TV, and only 5% less than those who use paid satellite TV.
Melinda McLaughlin, CMO of cloud-based enterprise platform Extreme Reach, discusses how the company is working to help clients activate and leverage video ads across all screens.