Video
---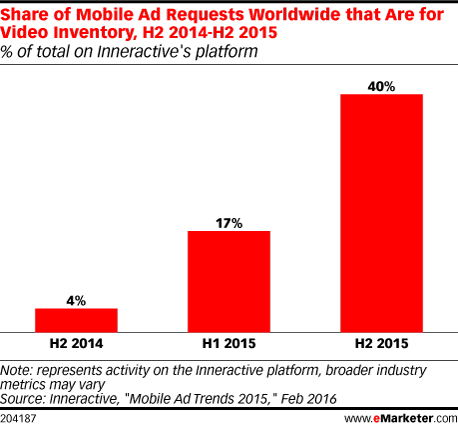 Mobile video ads can be effective and valuable for many marketers, and eMarketer estimates that video will also command a large portion of ad spending allocated to digital. Publishers and advertisers are becoming more comfortable selling and buying mobile video programmatically, per research.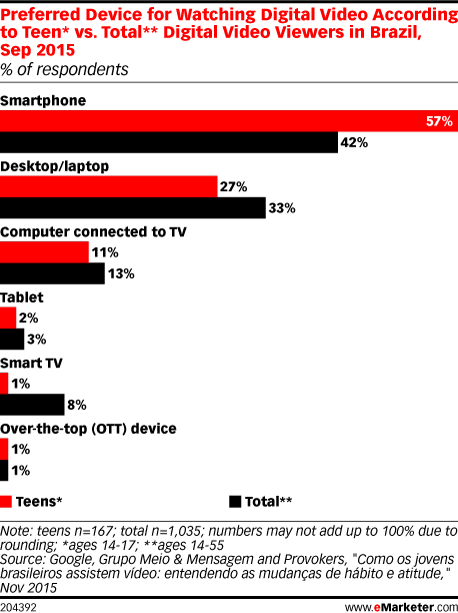 Digital video viewing is popular in Brazil: Some seven in 10 TV viewers watch video via digital channels as well. And for the youngest among them, smartphones are the No. 1 viewing device.
Netflix has further expanded its reach globally, making the service available everywhere in the world except China. Original content, which has helped the company become a video streaming destination, is likely driving its streaming revenues—which far exceed its DVD revenues.
Mobile messaging takes up a lot of smartphone time in China, where the average user has significantly increased time spent with their device in the past year. Online video viewing takes a distant second for smartphone time.
The number of original scripted TV shows has grown over the years, not only on basic cable, but services like Hulu and Netflix, which have become video streaming destinations because of their original content.
Video is taking over mobile data in the UK, according to 2015 data. The rise of 4G may be one reason, as eMarketer estimates two in five mobile phone users in the country will watch video this year.
The rise of digital and mobile video may have made an impact on the lives of viewers in Australia, but the time spent on digital video activities is still small compared to traditional TV.