Media & Entertainment
---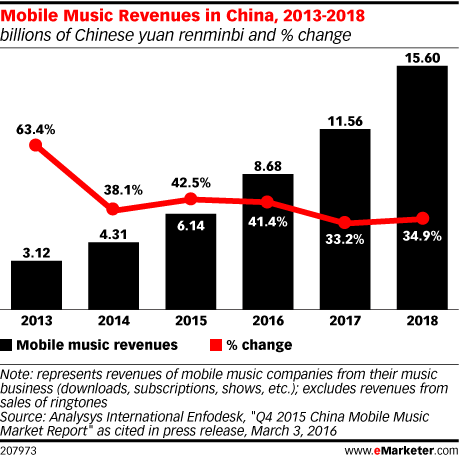 There's big growth in mobile music revenues in China, according to one forecast, which estimates that after 42.5% revenue growth last year, 2016 earnings will be up a further 41.4%. The audience is also on the rise.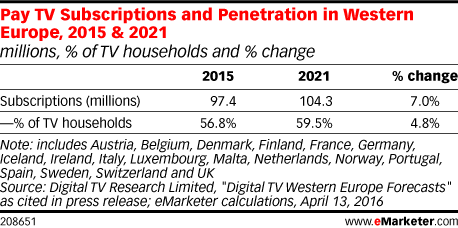 An April 2016 report found that there were 97.4 million pay TV subscriptions in 2015, a figure set to rise to 104.3 million in 2021. Household penetration is also going up.
Americans are spending more time watching digital video on their computers and smartphones, while spending less watching traditional TV. However, according to eMarketer's latest forecast on time spent with media, traditional TV still captures the lion's share of Americans' video-based attention every day, as well as most video ad dollars.
In Q4 2014 the region had 3.3 million pay TV subscriptions, which rose to 3.7 million subscriptions in Q4 2015—a positive change of 13.5%, and reason to believe there is room for market expansion.
Digital cable TV revenues will skyrocket to $5.3 billion in 2021, up from 2016's projected revenue of $3.5 billion.
Demand for virtual reality (VR) devices in China remains small for the time being, with the total user base in the country expected to be less than 10 million individuals through 2018. Despite this relatively early stage of adoption, enthusiasm for the potential digital video and gaming applications of VR may help to ramp up interest.
Mexico leads Latin America when it comes to pay TV subscriptions, with more than 19 million in Q3 2015. That is nearly one-fourth of all Latin American pay TV subscriptions.
Uwe Ellinghaus, CMO of Cadillac, discusses the new iteration of the automaker's "Dare Greatly" campaign, featuring young innovators, which was unveiled during the 88th Academy Awards.
Internet users in Canada are becoming more connected, especially when it comes to video viewing, according to 2015 research.
Both the commercial TV and streaming audiences in Norway are virtually evenly split between male and female TV viewers.