Media & Entertainment
---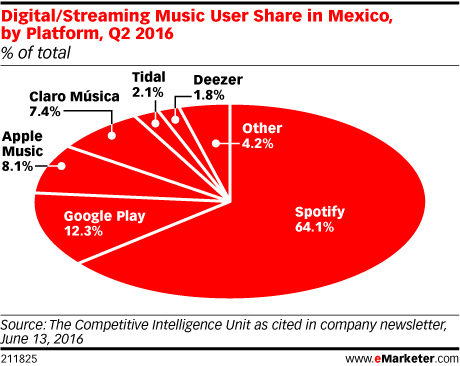 More than 60% of streaming music users in Mexico are tuning in to Spotify, according to Q2 research. With Google Play making up 12.3% of the streaming music user share nationwide, it's clear that Spotify is the go-to service for users in Mexico.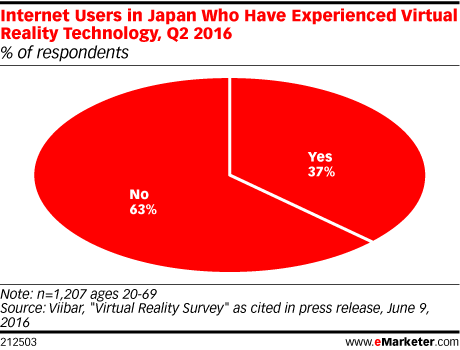 Less than half of internet users in Japan said they had experienced virtual reality (VR) technology, according to research. However, that doesn't mean they're not interested. Many suggest that free or low-cost VR experiences, coupled with encounters with the technology on TV and at events, may help to trigger further interest.
Travel is the most appealing type of virtual reality (VR) experience for internet users in the UK, according to April 2016 research. A majority said they wanted the experience of visiting other cities or locations from the comfort of their own headset. Virtual music experiences were nearly as popular.
Virtual-reality-related revenues are rising rapidly in China. According to Analysys International, revenues from VR hardware, software content and other services in China will grow 372.2% in 2016 to reach RMB850.0 million ($136.5 million). They are forecast to increase a further 154.1% in 2017 to pass the RMB2 billion ($321.1 million) mark.
Internet users ages 26 to 35 in Denmark and Sweden are less likely to watch traditional TV than their counterparts in Norway and Finland, research shows. But for those ages 36 and older, traditional TV is still overwhelmingly the way to view across Nordic geographies.
Doug Pearce, CEO of Omnicom Media Group (OMG) Greater China, discusses digital innovations in China and how the country could one day become a global digital technology leader.
More than two-fifths of media and audiovisual executives in the US are creating interactive media content for content marketing, according to March 2016 polling. Nearly the same number are working on interactive content for paid social media campaigns.
Call it a one-two punch to advertisers and content providers. With Americans' attention increasingly divided among an ever-expanding array of internet-connected devices, the number of people multitasking while watching television continues to rise, while cord-cutting also accelerates.
Very few consumers in Japan already have a virtual reality (VR) device, and many aren't familiar with the brands involved. But over 40% of those surveyed say they're interested in purchasing PlayStation's option.
Japan saw 178.1 million digital music sales in 2015; while the majority of those sales were single track downloads, ringback tones also sold significant units.