Media & Entertainment
---
More than three-quarters of millennials in Canada have binge watched TV in the past year, according to research.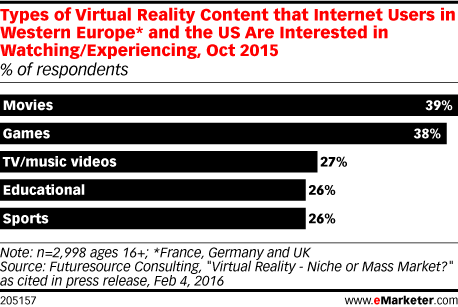 Virtual reality may be in its early stages, but internet users are already interested in experiencing it, according to October 2015 research.
More than three-quarters of US internet users subscribe to pay TV, according to December 2015 research. Still, many find the services to be too expensive.
The virtual reality (VR) market is skyrocketing in China, according to 2016 estimates. Revenues nearly quadrupled in 2015, and growth has not yet peaked.
In France, broadcast TV remains almost universally popular. But many consumers also watch TV on other devices and platforms, including PCs, tablets and mobile phones. Conversely, much digital video content can now be viewed on a TV set.
This will be a benchmark year for digital video usage, particularly streaming television. According to eMarketer's latest forecast of digital video consumption, 2016 will be the first time more than half of the US population will watch TV shows online at least once a month. In 2016, 164.5 million Americans will watch digital TV—50.8% of the US population. That's a jump from 47.8% last year.
Music sales in most formats continued to slide in Canada last year. Small growth in digital album sales was not enough to overall growth rates to the positive side.
David Anderman, chief business officer of virtual reality (VR) media company Jaunt, talks about the capabilities the firm provides to create immersive video experiences, how it works with brands and important measures for success with VR content.
The number of original scripted TV shows has grown over the years, not only on basic cable, but services like Hulu and Netflix, which have become video streaming destinations because of their original content.
Millennials are the most active video viewers of any US age group, and according to research from TiVo, this demographic primarily watches TV shows.