Marketing Technology
---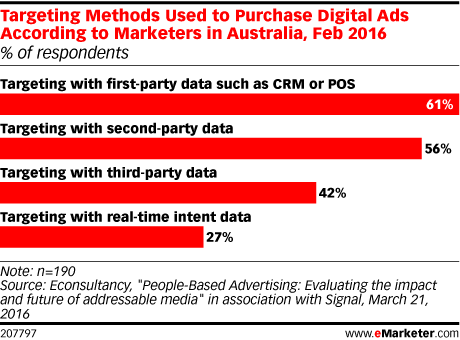 Advertisers in Australia report they are increasingly turning to people-based targeting to improve the effectiveness of their online ad campaigns. Many harness data gleaned from first-party sources, as well as from partners and digital ad platforms, to provide more relevant and effective advertising to consumers.

Vincent Brissot, global chief marketing and communications officer at HP Inc., talks about how the computer and printer manufacturer improved its recommendation engine with predictive and prescriptive tools. [Editor's Note: Brissot is now head of channel marketing and operations at HP.]
Marketers and IT professionals in Australia and New Zealand believe a number of challenges are holding back successful implementation of marketing technology programs. A lack of integration between different systems, insufficient budgets and a dearth of knowledge about how systems work among marketers are all key obstacles.
Marketing technology is a key area of focus for marketing managers in 2016, according to research. As managers think about where to spend their budgets on such technology tools this year, business intelligence reporting, marketing automation and customer interaction products are likely to see more investment.
Marketing technology is getting greater attention from marketing professionals, but many in the industry are often uncertain about how to apply it to their business. According to research from Rocket Fuel, two marketing technology trends likely to see more activity in 2016 are programmatic buying of TV and data management platforms.
Mark Goines, the CMO of Personal Capital, talks about how the digital wealth management tech company uses marketing technology to track and optimize cross-channel acquisition and conversion, as well as how it is finding scale beyond digital.
The use of data management platforms (DMPs) among industry professionals continues to grow. Yet, those same marketers are skeptical of DMPs' ability to deliver on expectations and business goals, according to research.
Christopher Curtin, chief brand and innovation marketing officer at Visa, discusses the challenge of integrating marketing tech companies.
Andrew Daley, vice president of marketing at Zipcar, spoke with eMarketer about how the rental car company plans to manage and operate its marketing ecosystem in 2016.
Marketers are constantly looking to get value from their data-driven marketing efforts. According to research, insufficient availability or functionality of supporting technology is a challenge to doing so.