Marketing Technology
---

David Raab, principal consultant at Raab Associates, told eMarketer what to expect from the onset of the age of artificial intelligence.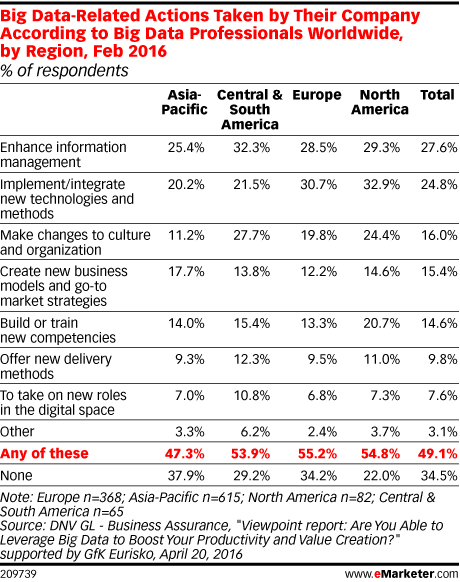 Big data is a big deal according to marketers at organizations across a variety of industry sectors. But despite its importance, research suggests many companies don't yet have a firm grasp of how to take advantage of big data or use it, with barriers like the lack of an overall strategy and insufficient technical skills preventing them from moving forward.
Marketers who work <i>in</i> technology are also the most likely to work <i>with</i> technology, according to January research. For the counterparts in other sectors, marketing tech adoption poses a bigger challenge.
Data and analytics capabilities have become a top priority for businesses, with many organizations using the discipline to help gain a competitive advantage and improve the customer experience. In fact, many organizations place such high value on data and analytics that primary responsibility for the function lies with the company CEO.
eMarketer senior analyst Bryan Yeager attended the MarTech conference in March where data was at the forefront of the discussion. He shared his insights from the conference and his own thinking on how marketers can prepare for the next generation of marketing technology.
Across the globe, IT professionals are getting to know cloud technology—not only its benefits, but the barriers to implementation as well. In Brazil, IT professionals overwhelmingly agree that cloud technology increases infrastructure flexibility and agility.
A growing number of executives are looking to marketing technology to help supercharge their local ad buying plans. Mobile push technology and real-time location data are both two key areas of interest.
A typical business-to-business (B2B) brand now has a staggering amount of data in its arsenal, and the marketing department's goal is to use that data to deliver more effective results than ever before. Enter predictive marketing, which uses machine learning to deliver more accurate insights across the funnel to encourage sales from existing and new customers.
Nearly 90% of those surveyed say they employ digital analytics; another 80% say they use email marketing. And nearly all of those who do use analytics turn to Google.
Josh Sutton, global head of the artificial intelligence practice at Publicis.Sapient, talks about the current state and future potential of using artificial intelligence for marketing and advertising.