Media Buying
---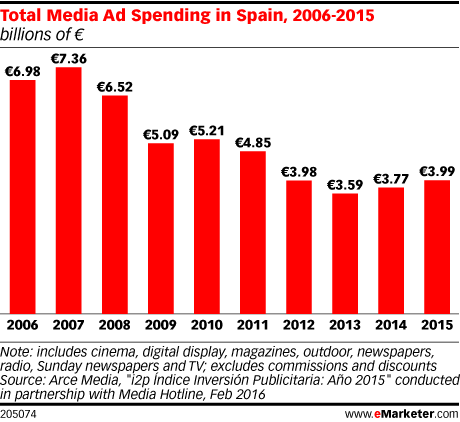 The worldwide recession hit Spain hard, and brought down ad spending significantly. Total media spending has still not recovered, but it is on the rebound.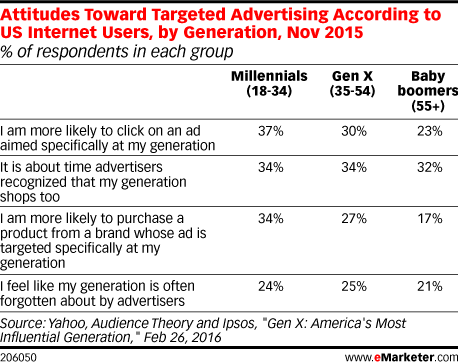 When it comes to targeted advertising, many US internet users across generations feel like they are often forgotten about by advertisers, according to November 2015 research. And they feel it is about time they are recognized.
Despite a general economic slowdown in China, the internet sector shows no signs of abating and eMarketer predicts that digital ad spend will reach $40.42 billion in 2016, a 30% increase on last year's spend.
Most marketing professionals in Sweden plan to increase their Facebook advertising budget in 2016. Merely 13% plan to decrease it.
Pete LaFond, vice president of marketing at TruSignal, talks about programmatic advertising in the addressable TV space.
Internet users in South Korea are losing faith in traditional media, according to longitudinal research. Trust in digital channels, meanwhile, is holding steady.
Chris Thorne, CMO of The Honest Company, an eco-friendly retailer, talks about engaging with millennial mothers and discovering what they value.
The US digital video advertising market is on pace to nearly double by 2019. This growth will be led by an ongoing shift toward mobile viewing, a host of digital platforms that now prioritize video and a growing assortment of content against which to advertise.
Last year, 262.0 million people around the world used Twitter on at least a monthly basis, eMarketer estimates. This year, the figure will rise to 291.0 million, and 2016 will be the last year of double-digit growth in users. The social network faces pressure to grow its audience quickly, however, to support a burgeoning ad business.
Mobile display ad spending in South Korea tilts toward apps—but not too dramatically, according to 2015 research. eMarketer estimates that mobile ad spending overall continues to rise at robust double-digit rates.