Media Buying
---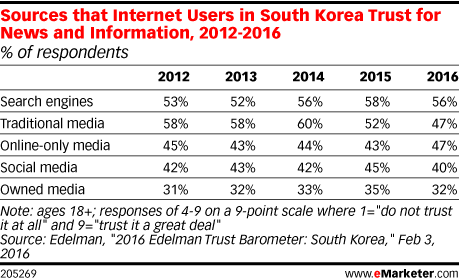 Internet users in South Korea are losing faith in traditional media, according to longitudinal research. Trust in digital channels, meanwhile, is holding steady.

Amory Wooden, director of brand marketing at Squarespace, discusses how the company created a memorable second-screen experience during Super Bowl 50.
The US digital video advertising market is on pace to nearly double by 2019. This growth will be led by an ongoing shift toward mobile viewing, a host of digital platforms that now prioritize video and a growing assortment of content against which to advertise.
Last year, 262.0 million people around the world used Twitter on at least a monthly basis, eMarketer estimates. This year, the figure will rise to 291.0 million, and 2016 will be the last year of double-digit growth in users. The social network faces pressure to grow its audience quickly, however, to support a burgeoning ad business.
Mobile display ad spending in South Korea tilts toward apps—but not too dramatically, according to 2015 research. eMarketer estimates that mobile ad spending overall continues to rise at robust double-digit rates.
Mobile is the most likely digital channel to see an increase in budget among marketers in Canada, according to research from December 2015. The same channel will also enjoy the largest planned increases in spending.
Yahoo's planned earnings release is being overshadowed by expectation of a major corporate reorganization and significant layoffs. While its ad revenues are expected to go up, its share of the total is not, forcing it into a tighter corner of the market.
Financial institutions are facing many challenges this year, ranging from implementing EMV payments to making strategic hiring decisions. According to research, driving growth and profitability are among their biggest hurdles.
Digital video advertising is a fast-growing format in China, where double-digit gains are the norm for the format. This year, according to one researcher, mobile will account for more than half of digital video ad spending for the first time.
The Super Bowl remains one of the most-watched events in the US, and viewers not only tune in because of the sports, but for the ads as well. And according to research, the top five Super Bowl advertisers have spent a total of $745.1 million during the past 10 years.