Media Buying
---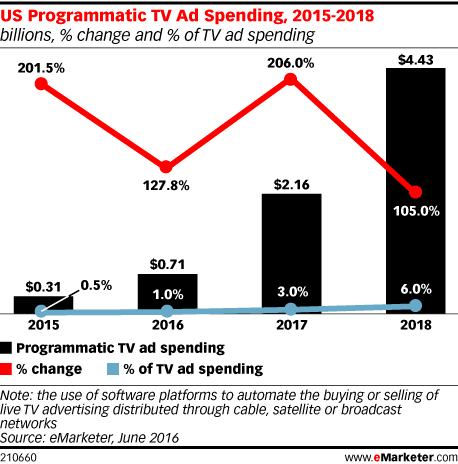 Two fundamental elements define programmatic TV buying: high-scale automation of transactions that follow buyer-seller specifications; and the capacity for data-driven, audience-based buying using third-party data. The marketplace is indicating that targeting is the core driver for programmatic TV activity, much like addressable TV, where data enrichment enables more precise targeting.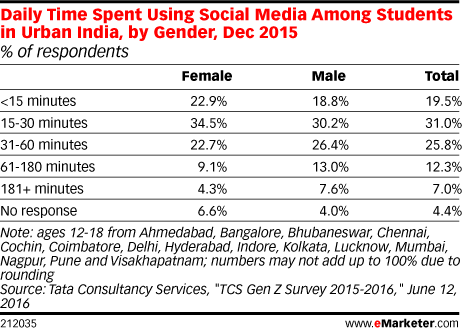 Most students in urban India who use the internet spend half an hour each day—or less—on social media, with boys spending notably more time on the channel than girls. The pattern is similar for desktop and laptop PC usage in general.
Programmatic spending on TV ads is poised to experience explosive growth over the next several years, according to eMarketer's first forecast on the topic. This year, programmatic TV spending will climb 127.8% to $710 million. And that will come after spending triples this year.
Healthcare and pharma marketers in the US invested $1.67 billion in paid digital media in 2015. This year, those marketers will increase their spending 15.4% to reach $1.93 billion.
US spending on addressable TV ads doubled in 2015 and is set to double again this year, eMarketer projects in its first estimates of spending on targeted TV ads delivered on a home-by-home basis via cable and satellite. Still, addressable ads account for just a tiny share of all TV ad spending.
In the latest episode of "Behind the Numbers," we start out by dissecting the new eMarketer estimates for time spent with media and for simultaneous media usage. In part two, we discuss the future (and the present) of "embedded commerce."
According to one researcher, ad spending across all media in Germany has been on the decline. More optimistic sources peg growth around 1% annually. Some channels, though—including online—are outperforming the average.
Advertisers in Japan will spend more than ¥454.2 billion ($3.75 billion) on smartphone ads in 2016, with the largest share of investments going to display ads. Ads encouraging users to re-engage with apps are also becoming popular.
Consumer brands aren't the only advertisers spending more on programmatic these days. Marketers in the B2B sector are also investigating programmatic ad buying as a way to boost their media buying efficiency and improve targeting.
Ad spending on paid digital media by the US automotive industry will hit $8.71 billion in 2016, up 17.3% year over year. This figure will climb to $14.14 billion by 2020, for a compound annual growth rate (CAGR) of 13.7% from 2015 to 2020. While growth will begin to taper off this year, the industry's share of US digital spending is expected to rise throughout the forecast period.