Media Buying
---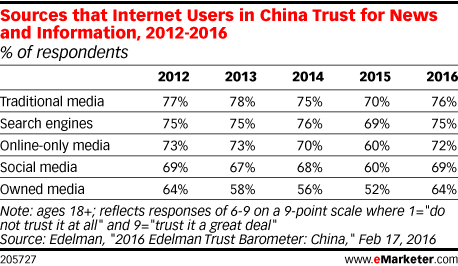 Internet users in South Korea have shifted their trust in the media toward digital, and away from traditional. But in nearby China, the same researcher found trust in traditional holding strong.

Pete LaFond, vice president of marketing at TruSignal, talks about programmatic advertising in the addressable TV space.
Amory Wooden, director of brand marketing at Squarespace, discusses how the company created a memorable second-screen experience during Super Bowl 50.
Millennials account for an estimated one quarter of consumer spending, according to August 2015 research. Yet, advertisers spend more than a third of their total media budget pursuing them.
Google remains the most popular and ubiquitous search engine when it comes to paid search advertising in Europe. From Q4 2014 to Q4 2015, Google's share of paid search ad spending rose somewhat, while Bing/Yahoo held steady.
Mark Book, vice president and director of social content for agency DigitasLBi, talks about the specialized opportunities podcast advertising offers.
LinkedIn's global ad revenues are still rising by double-digit rates, according to eMarketer estimates from September 2015, even though Twitter and Facebook continue to grow their share of the pie more quickly.
eMarketer expects advertisers in China will spend $9.29 billion on programmatic digital display advertising in 2016, a figure that sits between our estimates for the US ($21.55 billion) and UK ($4.06 billion).
Have some of the "FANG" companies grown so big that further growth becomes almost impossible to achieve? eMarketer forecast in September that 2016 would be the first year of single-digit growth in worldwide net ad revenues since the Great Recession set in.
Digital video advertising is a fast-growing format in China, where double-digit gains are the norm for the format. This year, according to one researcher, mobile will account for more than half of digital video ad spending for the first time.