Media Buying
---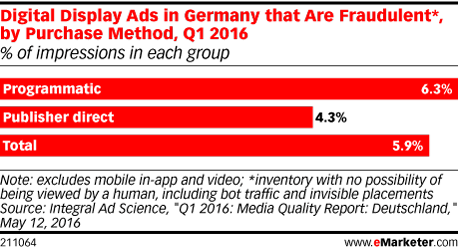 Nearly 6% of digital display ads in Germany in Q1 2016 were determined fraudulent, meaning there was no possibility of their being viewed by a human. Programmatic ads had above-average issues.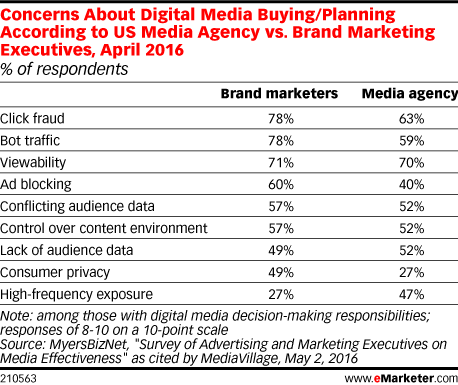 Both brand marketers and media agencies have concerns when it comes to their digital media buying and planning. According to April 2016 research, click fraud and viewability are a significant worry for both.
The US financial services industry will spend $8.37 billion on digital advertising in 2016, a 14.5% gain from 2015. As a result, this sector will be responsible for 12.2% of total US digital ad spending for the year.
In the US and Canada, growth in time spent with media by adults has slowed to a crawl—at least until the next big technological disruption comes along. In the UK, by contrast, time spent with media continues to rise, even if less so than earlier in this decade. Significant growth in time spent may come to a halt in the next decade, but it has not done so yet.
Call it a one-two punch to advertisers and content providers. With Americans' attention increasingly divided among an ever-expanding array of internet-connected devices, the number of people multitasking while watching television continues to rise, while cord-cutting also accelerates.
The US media and entertainment industries will spend a combined $7.34 billion on paid online and mobile media advertising in 2016. eMarketer expects this investment to grow to $11.52 billion by 2020. As digital consumption of news and entertainment increases, advertisers in these sectors are spending larger portions of their advertising and promotional budgets on online and mobile channels.
Roughly two-thirds of US agency and marketing professionals said they expect to increase their desktop video ad spending, as well as mobile video ad spending, within the next 12 months, according to March 2016 research.
On one major video ad platform, 60% of all campaigns in Q1 2016 were served across PCs, mobile devices and connected TVs. Only a handful, by contrast, were device-specific.
Consumer attention is more fragmented than ever before in UK households. Digital devices, in particular, are becoming common distractions from the biggest screen—the TV. This is true even during communal viewing events, such as the upcoming Summer Olympics in Rio.
Broadcast TV in Brazil made up more than half of total media ad spending in 2015, according to research from Kantar IBOPE Media. Ad spending on other channels like newspapers, radio and digital search was significantly less.