Media Buying
---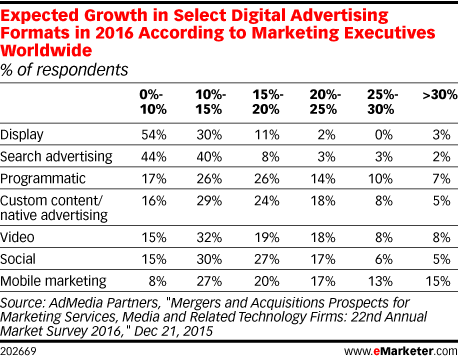 Display ad spending may be about to outpace search this year in the US, but in many markets, search is still in the lead—and expected to stay there. And according to 2015 research, marketers around the world are planning to increase search spending this year.
Buyers and sellers alike see value in reaching audiences across all screens. Register here for a complimentary eMarketer webinar to learn about the opportunities and challenges of achieving a more people-based approach to targeting. Topics in this webinar include: What's the current state of cross-device targeting among advertisers? Where does TV fit in to the cross-device landscape? How valuable is first-party data? Will marketers attempting to target audiences run into privacy concerns?
In 2016, digital display ad spending will eclipse search ad spending in the US for the first time. Combined, the categories of video, sponsorships, rich media and "banners and other" will account for the largest share of digital ad spending: 47.9%, worth $32.17 billion.
Young people in Brazil spend the most time with mobile devices, according to September research, and Facebook is likely a major recipient of their attention. Google is the No. 2 mobile property in the country.
When buying programmatically, there are many important factors that come into play. Being able to buy display, as well as inventory across channels via a single platform are two of the top ones, according to US media practitioners.