Mobile
---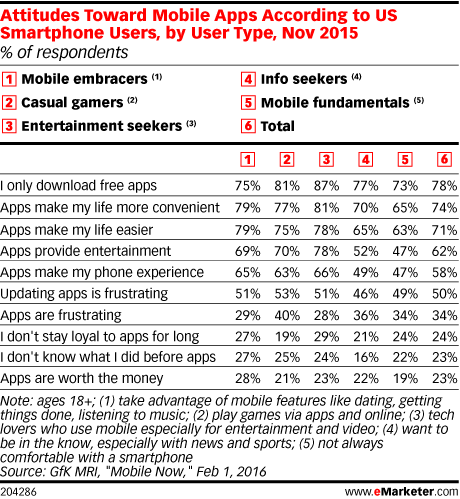 The mobile audience is not homogeneous, according to November 2015 research. And the way different groups rely on their mobile devices translates to different attitudes toward ads—and apps.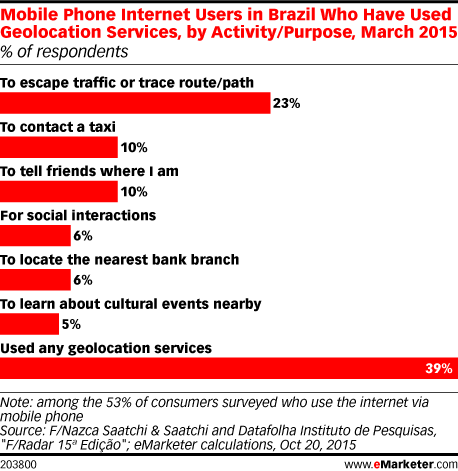 Two in five mobile phone internet users in Brazil take advantage of geolocation services, according to 2015 research.
Nearly three-quarters of retailers worldwide said they wanted their apps to offer payment security. Preventing fraud is more important for retailers than seamless ordering capabilities.
Mark Taylor, senior vice president of digital customer experience at business and technology consulting company Capgemini, talks about how consumers' expectations have changed and how marketers can create a compelling loyalty experience.
Mobile accounted for more than half of digital ad spending in 2015, and marketers continue to see increased value in mobile advertising. While there are benefits, there are challenges too, according to Q3 2015 research.
Snapchat's audience in the US is growing and the platform can be an effective way for marketers to reach consumers, especially millennials. According to research, more US senior ad buyers are planning to begin advertising on Snapchat than other social media sites.
Many consumers are not downloading and using mobile apps because of increasing privacy and security concerns, according to 2015 research. Some have even deleted an app or stopped using it because of this issue.
Internet users in Japan have migrated a variety of activities to mobile devices as they have adopted smartphones and tablets, according to December 2015 research. One reason is the convenience of mobile access in any location.
Nearly half of US mobile users are interested in mobile-based account control for debit cards, like tools to help them control their spending and avoid fraud.
Passengers on France's public transport networks increasingly pass the time with mobile devices rather than print newspapers and books, according to October 2015 research.