Mobile
---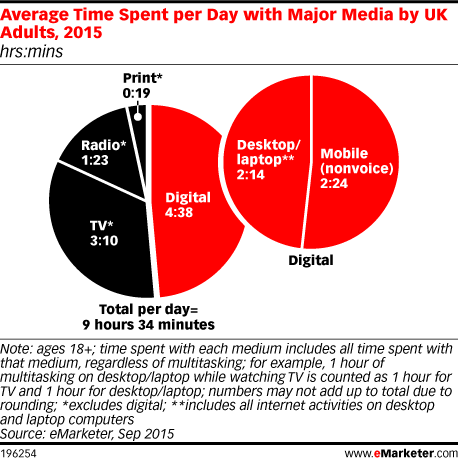 When online, mobile internet users in the UK are highly likely to be in an app environment. Even when they're not online, apps account for a huge proportion of time spent with mobile media. As smartphone and tablet use becomes increasingly prevalent, app usage is seeing a massive jump, too.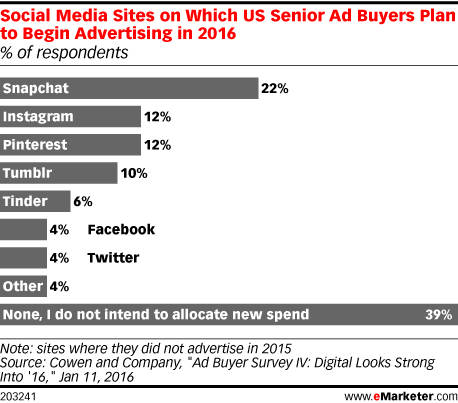 Snapchat's audience in the US is growing and the platform can be an effective way for marketers to reach consumers, especially millennials. According to research, more US senior ad buyers are planning to begin advertising on Snapchat than other social media sites.
Internet users in Japan have migrated a variety of activities to mobile devices as they have adopted smartphones and tablets, according to December 2015 research. One reason is the convenience of mobile access in any location.
Mobile is coming to account for an ever-increasing proportion of programmatic digital ad spending in the UK. As with the wider programmatic landscape, an education phase is currently under way, but marketers are learning fast.
Mobile messaging takes up a lot of smartphone time in China, where the average user has significantly increased time spent with their device in the past year. Online video viewing takes a distant second for smartphone time.
Thomas Meyer, co-founder of Mobile Now Group and a veteran of the China mobile scene, encourages Western brands to advertise and sell via WeChat.
Magnus Jern, president of the Mobile Application Solutions Division at DMI, a creator of mobile apps for global brands, discusses how consumers are using mobile apps to influence purchasing decisions, conducting research and shipping in-store purchases to their doorstep.
Brazil has Latin America's largest mobile internet market, and according to November research, users of all ages have widely adopted smartphones.
Mobile connections have plateaued in Chile, but users are still making moves to switch to faster-paced mobile broadband connections. 4G connections more than doubled between 2014 and June 2015.
Most smartphone users Spain have fewer than 10 apps installed on their smartphones, according to September 2015 research. While the share dips to 44% for 26- to 35-year-olds, the total across all demographic reads largely the same. But are users simply uninterested in apps, or are they simply downloading them for a short time?