Retail & Ecommerce
---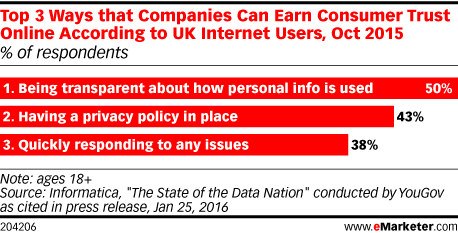 Internet users who are increasingly educated about personal information use and security issues are also increasingly wary of companies holding that information. But a January 2016 report reveals some ways companies can earn the trust of UK internet users.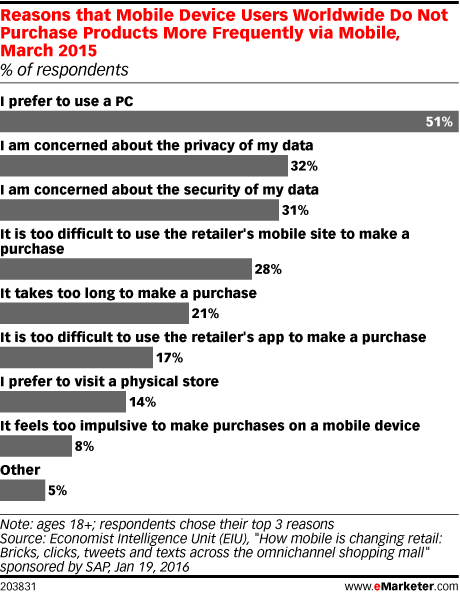 For some consumers, the mobile screen is too small for frequently purchasing. Indeed, many mobile device users worldwide would prefer to use a PC instead.<
Virtually all internet users in Great Britain are worried about their digital privacy—but most also think they know what to do to protect themselves.
Ankit Shah, managing director and partner at Dopamine, a gamified-experience agency, explains how gamification can help retailers spice up their loyalty programs.
Retailers offer consumers a variety of shipping options to meet their needs. According to September 2015 research, ship to store is the most common worldwide.
Marketers are constantly looking to better understand consumers and ultimately deliver an engaging experience. According to Q4 2015 research, many executives are using revenue metrics to measure the success of customer efforts.
While more than half of US retail decision-makers fully believe retailers provide a consistent customer experience across all channels, just over a quarter of US shoppers feel the same way, according to December 2015 research.
Gabe Weiss, director and strategy lead at digital agency SapientNitro, explains what a successful retail app should offer and how retailers such as Target and Sephora are offering additional features that members want.
Much of the consumer car rental business has already moved online, especially in countries with advanced digital habits. Now there's evidence that in Germany, for example, people are also using the internet in their millions to research and buy new and secondhand vehicles.
The vast majority of women in Japan who have a new baby or toddler buy baby items online at least sometimes—but according to 2015 research, they're also still heavily reliant on offline purchase channels.