Retail & Ecommerce
---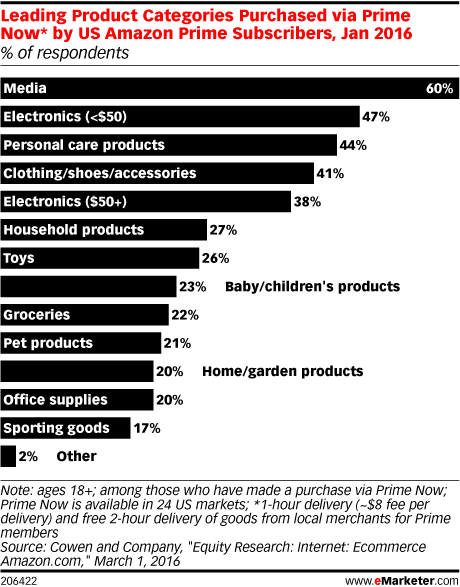 Prime Now, a service from Amazon that is available to subscribers, has taken off in select US markets. Media is among the top product categories purchased.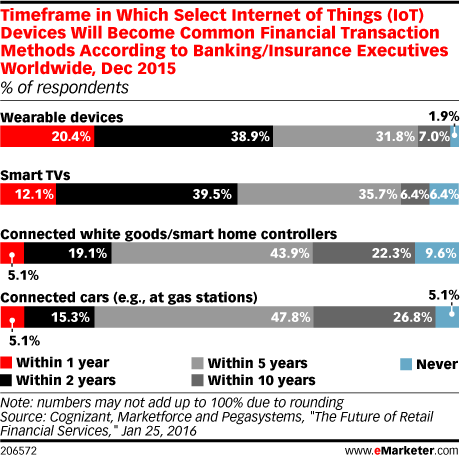 Internet of things (IoT) devices are garnering the attention of many marketers and consumers. While they may have different purposes, a December 2015 survey found that these devices may become common financial transaction methods, particularly wearables.
Among women in the typical age range with children younger than 18, most use the internet, smartphones and so on. Thus, one must look more closely to see what is special in the ways mothers in particular use digital to meet the demands of their role and, at times, to escape from those demands.
Even with digital peer-to-peer (P2P) methods like PayPal and Venmo available, millennials prefer getting paid back in cash, according to January 2016 research.
Jason Goldberg, senior vice president of commerce and content at Razorfish, discusses retail performance during the 2015 holiday season.
According to US retail marketers surveyed in January 2016, digital marketing brings bigger returns than offline efforts. More than three-quarters of retailers said their digital ROI was greater than for offline marketing channels.
Digital buyers in India have not much changed the frequency with which they shop digitally or in-store, according to longitudinal research. Though digital shopping has become slightly more frequent, trips to the store have barely budged.
Nearly three-quarters of those surveyed feel that increased security measures are good, but there is a growing sense that the federal government is not doing enough to protect the data of its citizens.
More than a third of US internet users say gamification features offered from a brand's mobile app will not influence their purchasing behavior, according to research.
Predictive marketing is becoming important among marketers. In fact, more than six in 10 executives worldwide said that achieving a more complete view of the customer helped them more accurately predict customer needs and desires. That made it the leading benefit of a unified customer view.