Retail & Ecommerce
---
eMarketer expected a strong 2015 holiday season for ecommerce and total retail sales. In this webinar, we take a look at the final results and review what retailers need to know about changing consumer behaviors to keep up in 2016. Topics include: How the overall retail sector performed during the 2015 holiday season; Why experiential gifts were one significant holiday trend of 2015; How consumers used their phones and other mobile devices to shop last holiday season; How deal-seeking behaviors are changing the holiday shopping calendar.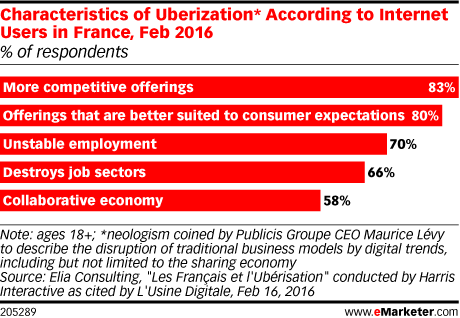 Most web users in France are well informed about the new business models that companies such as Uber, Airbnb and BlaBlaCar represent, and their potential effects on traditional industries.
One in five digital buyers in Denmark said their most recent digital purchase was clothes, shoes or jewelry, according to a 2015 survey, while 14% each had last bought entertainment items (movies, music or books) or spent money on travel and cultural experiences.
Mobile devices have become a key part of the auto shopping process for US internet users, according to research. And search data suggests consumers are warming up to car shopping—and turning to digital for research at all stages of the purchase funnel.
Keri La Ra, director of global social media and digital compliance at Starwood Hotels and Resorts Worldwide, spoke to eMarketer about how social listening drives engagement with loyalty group clients and informs the marketing budget.
Next year will mark a milestone for US ecommerce, as more than half of digital buyers in the country will use a smartphone to complete a purchase during 2017. According to eMarketer's latest forecast, 95.1 million Americans ages 14 and older, or 51.2% of digital buyers, will make at least one purchase via a smartphone.
Consumers use their smartphones a great deal when shopping, and according to November 2015 research, receiving real-time promotions is one of top smartphone retail services they desire.
Memberships in loyalty programs are expanding rapidly while active participation in programs is falling. The reason is simple: Although the barriers to joining programs are lower than ever, most programs are undifferentiated and rely largely on discounts.
Most internet users in Japan plan to celebrate Valentine's Day in some way, according to January 2016 research. Whether they spend it with partners, friends or family, internet users in the country tend to see the day as a time for gratitude.
Social commerce is nothing new, and social media sites continue to influence many ecommerce purchases, according to 2015 research. Purchases influenced by LinkedIn had the biggest average order value.