Social Media
---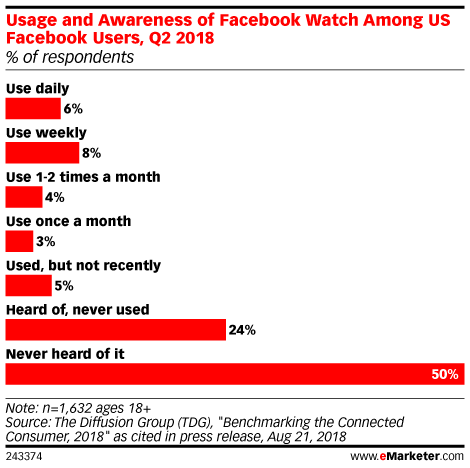 Facebook Watch users still make up a small percentage of total worldwide Facebook users. Can the video service compete with the likes of Youtube and Netflix?
Social behaviors are shifting to stories. Advertisers want to be where users are, but how can they create effective ad campaigns that drive results? We spoke with executives at Facebook, Instagram and Snapchat to get the secrets to story advertising success.
Social commerce has reinvented itself many times over but has yet to prove itself as a solid sales tactic. Next year, the version that has been evolving during 2018 could finally take hold.
In the latest episode of "Behind the Numbers," analyst Debra Aho Williamson joins us in the studio to talk about social stories—what she calls a 21st Century daily diary. What is it about stories that users and advertisers alike seem to find so appealing?
The New York Public Library is getting readers to continually engage with a feature originally intended for expiring content.
Is connectivity a curse? Are smartphones bringing us down? In the latest episode of "Behind the Numbers," we dig into the latest data about the pyschological impact of media use, social media in particular.
In 2018, digital devices and platforms are central to almost every dimension of daily life for consumers and businesses around the world. Yet traditional media—notably TV—still claim a significant amount of time as well, even among internet users. While consumer trends are clearly evident across the 40 markets featured in the Global Media Intelligence Report, inevitably, there are intriguing outliers with respect to device penetration and the adoption of social media, time-shifted TV and other activities.
In the latest episode of eMarketer's "Behind the Numbers" podcast, Victoria Petrock and Rahul Chadha dig into the implications of Facebook's surprising entry into smart speakers with its Portal product. Its ability to "follow" users around a room got plenty of attention, but what else can it do?
This year, 77.4 million people in the US—or nearly a quarter of the population—will use Pinterest, a 7.0% increase from 2017, according to eMarketer estimates.
This year, 55.2 million people in the US will use Twitter. That's 16.8% of the population and a 0.9% increase from 2017, according to eMarketer estimates.