Social Media
---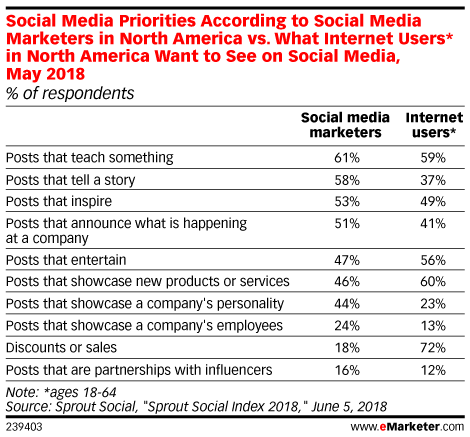 A new survey finds a bit of common ground between marketers' priorities and consumers' preferences when it comes to content posted on social platforms.
Billy Boulia, vice president and group director of social strategy at Digitas, talks about about the value of social in-stream advertising and the challenges ahead.
Andreas Reiffen, founder and CEO of Crealytics, discusses how fashion retailers are using marketing data to efficiently identify trends and adjust their production efforts accordingly.
Joseph Barbagallo, manager of digital, social and CRM at Jaguar and Land Rover North America, discusses what it takes to get social in-stream advertising right.
Social media marketers and advertisers are looking beyond the hype and mysticism of AI, and seeing its potential for both effective campaign management and optimization. eMarketer has curated this Roundup of articles, insights and interviews so you too can get a sense of the real reality of AI and how it can support your social campaigns. (Robot not required.)
Frank Amorese, senior media director of Heineken USA, discusses his discoveries and best practices in digital video advertising.
A new study finds that social media users who have been swayed to make a purchase based on a stranger's recommendation were most likely to buy products like clothing, electronics or beauty items.
With the exception of China and a few other countries, marketers across the globe are starting to focus their influencer marketing efforts on microinfluencers.
Lauren Sanborn, director of social media at Schafer Condon Carter, discusses the organic ways brands can use social location features to gain exposure.