Social Media
---
Not only do consumers want businesses to be open and honest in their social posts, they actually hold businesses to a higher standard than they hold for themselves.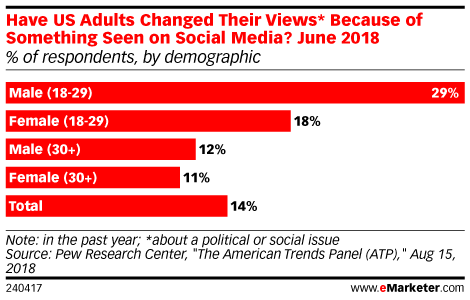 We may believe we're each living in our own social media bubble full of like-minded folks, but new survey data suggests that some of us are being persuaded to change our minds thanks to social posts.
A new survey finds a bit of common ground between marketers' priorities and consumers' preferences when it comes to content posted on social platforms.
Snap Inc.'s share price stumbled Wednesday after the company disclosed user growth that failed to meet Wall Street expectations. But that reaction obscures gains for Snapchat's programmatic advertising platforms.
Jim Hertzfeld, chief strategist at digital agency Perficient Digital, discusses how some brand marketers are connecting marketing data to merchandising data to maximize the value of what's available to them.
The amount of time individuals spend with social networks continues to increase, especially with the proliferation of newer platforms like Instagram and Snapchat. US adults averaged approximately 51 minutes of daily time with social networks in 2017. eMarketer has curated this Roundup of articles, insights and interviews to help you reach social media users effectively.
Social media marketers and advertisers are looking beyond the hype and mysticism of AI, and seeing its potential for both effective campaign management and optimization. eMarketer has curated this Roundup of articles, insights and interviews so you too can get a sense of the real reality of AI and how it can support your social campaigns. (Robot not required.)
Every week on eMarketer's "Behind the Numbers" podcast, we take a few minutes to discuss some of the most intriguing headlines of the past seven days. This week, some of the topics we're talking about include Google's expected return to China, plus a new kind of tutor.
Some marketers deploying influencer campaigns in China use the terms "KOL" and "wanghong" interchangeably. Do you know the difference?
A new study finds that social media users who have been swayed to make a purchase based on a stranger's recommendation were most likely to buy products like clothing, electronics or beauty items.