Social Media
---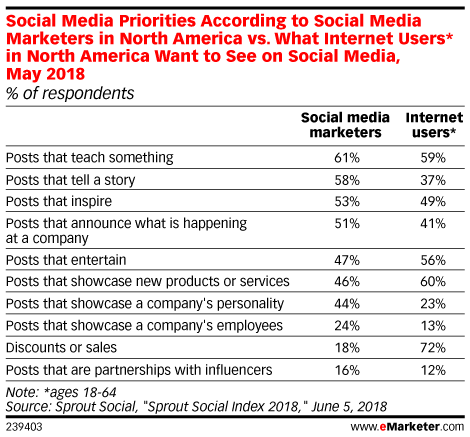 A new survey finds a bit of common ground between marketers' priorities and consumers' preferences when it comes to content posted on social platforms.
Andreas Reiffen, founder and CEO of Crealytics, discusses how fashion retailers are using marketing data to efficiently identify trends and adjust their production efforts accordingly.
Billy Boulia, vice president and group director of social strategy at Digitas, talks about about the value of social in-stream advertising and the challenges ahead.
Joseph Barbagallo, manager of digital, social and CRM at Jaguar and Land Rover North America, discusses what it takes to get social in-stream advertising right.
Strong headwinds are certainly ahead for influencer marketers. For one, it's looking like this will be the year that the US Federal Trade Commission (FTC) will become more heavily involved. eMarketer has put together this selection of articles, insights and interviews so you can understand what will be critical to influencer marketing in the coming months to be prepared—and to avoid the risks.
Frank Amorese, senior media director of Heineken USA, discusses his discoveries and best practices in digital video advertising.
Instagram's user base in Switzerland has almost tripled since 2015, according to eMarketer's latest forecast. More than half of social network users in the country, or 1.9 million people, will access the platform regularly in 2018.
Twitter continues to reign supreme in Japan, with almost 64% of the country's social network users, or 34.0 million people, logging on to the platform this year, according to eMarketer's latest forecast.
Lauren Sanborn, director of social media at Schafer Condon Carter, discusses the organic ways brands can use social location features to gain exposure.