Advertising & Marketing
---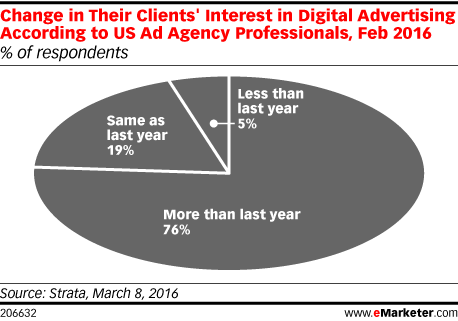 Digital ad spending will surpass TV next year, eMarketer estimates. And according to February 2016 research, US ad agency professionals say their clients are interested in digital advertising more than last year.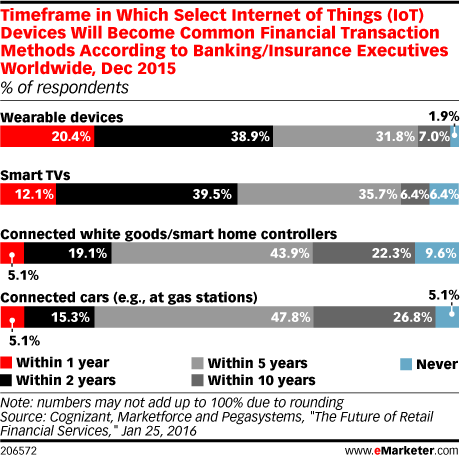 Internet of things (IoT) devices are garnering the attention of many marketers and consumers. While they may have different purposes, a December 2015 survey found that these devices may become common financial transaction methods, particularly wearables.
By the end of this year, 3.30 billion people around the world will use the internet on a monthly basis, eMarketer estimates.
Marketing technology is getting greater attention from marketing professionals, but many in the industry are often uncertain about how to apply it to their business. According to research from Rocket Fuel, two marketing technology trends likely to see more activity in 2016 are programmatic buying of TV and data management platforms.
Ad blocking continues to gain ground as more consumers discover how easy it is to install a browser plug-in that eliminates the ads they consider most intrusive—video pre-rolls, displays, interstitials, page takeovers, etc. The consensus is that ad blocking is a headache for all who depend on ad-supported digital media.
The average cost to get females to install, register for and subscribe to a mobile dating app is higher than the cost to acquire a male, according to research. Mobile operating systems influence app costs and conversion rates as well.
Pete LaFond, vice president of marketing at TruSignal, talks about programmatic advertising in the addressable TV space.
Mark Goines, the CMO of Personal Capital, talks about how the digital wealth management tech company uses marketing technology to track and optimize cross-channel acquisition and conversion, as well as how it is finding scale beyond digital.
Internet users in South Korea are losing faith in traditional media, according to longitudinal research. Trust in digital channels, meanwhile, is holding steady.
Amory Wooden, director of brand marketing at Squarespace, discusses how the company created a memorable second-screen experience during Super Bowl 50.