Advertising & Marketing
---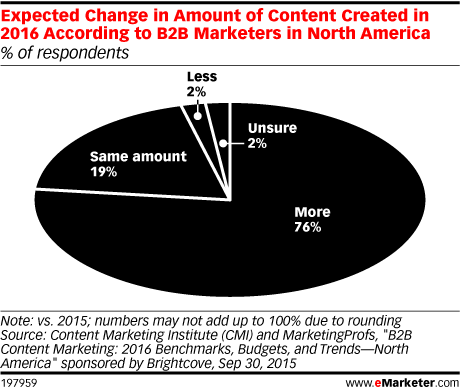 The amount of content B2B marketers are creating is expected to drastically increase in 2016. With this amplified emphasis on content marketing, these marketers have evolved in their approach and strategies—they are looking at the long game and realizing that although waiting 18 to 24 months for results is not ideal, it is the new reality.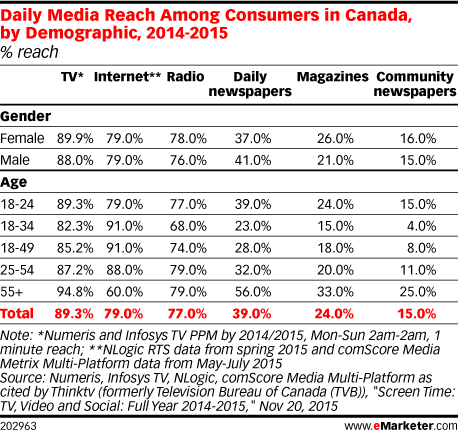 TV is still the No. 1 medium for daily consumption in Canada, but the internet is not far behind. The vast majority of consumers in the country spend time with both every day—as well as with radio.
At first mention of the internet of things (IoT ) for healthcare, Fitbits, Jawbones and smart watches probably come to mind. These devices have received a strong dose of media hype, but they are just the tip of the iceberg in a growing infrastructure that is bringing meaningful connectivity to the business of health.
Many brands prefer to upload their videos directly to Facebook, according to research from quintly. YouTube videos only make up roughly one-quarter of all videos posted by brands on the social network.
Steve Chadwick, director of marketing communications at Verizon Enterprise Solutions, told eMarketer about the company's content strategy and results.
There are significant differences in how tolerant digital video viewers in Latin America are of pre-roll ads depending on what device they're using, with mobile viewers skipping ahead at higher rates. That's the case even for the shortest of pre-rolls.
Genpact (formerly GE Capital) dedicates half of its marketing budget to content marketing. Content leader Amrita Thapara explains why.
Advertising revenues are key to the existence of much digital video content. Still, if there are too many ads playing, users will stop watching the video altogether, according to December 2015 research.