Advertising & Marketing
---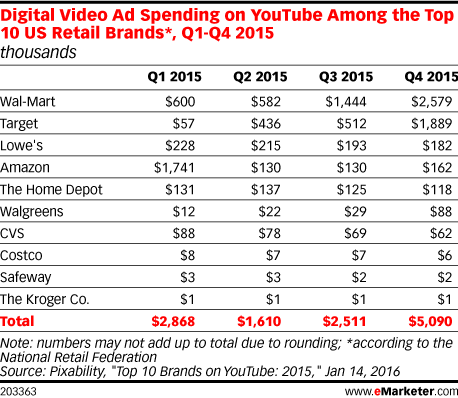 Companies like Wal-Mart, Target and Amazon have been flocking to YouTube to run branded content and advertising campaigns. Digital video ad spending on the Google-owned platform continues to grow, and is expected to maintain the biggest share of US video ad revenues through 2017.

Thomas Meyer, co-founder of Mobile Now Group and a veteran of the China mobile scene, encourages Western brands to advertise and sell via WeChat.
David Anderman, chief business officer of virtual reality (VR) media company Jaunt, talks about the capabilities the firm provides to create immersive video experiences, how it works with brands and important measures for success with VR content.
It's little wonder that the path to purchase has become an omnichannel one with the rise of digital and mobile channels of product discovery and purchase—especially when an array of problems can send internet users running to a different device.
TV is still the No. 1 medium for daily consumption in Canada, but the internet is not far behind. The vast majority of consumers in the country spend time with both every day—as well as with radio.
In 2016, digital display ad spending will eclipse search ad spending in the US for the first time. Combined, the categories of video, sponsorships, rich media and "banners and other" will account for the largest share of digital ad spending: 47.9%, worth $32.17 billion.
Alexandre Sagakian, vice president of research and data at Qriously, discusses how college students engage with ads.
Internet users in Japan who are exposed to mobile video ad campaigns have better awareness, interest and purchase intent than those who aren't—but it helps brand metrics even more when such ads are combined with TV commercials.
Moz, an inbound marketing tool provider, publishes at least one piece of content every day. CMO Annette Barnes Promes reveals why content is so essential to Moz's business-to-business (B2B) customer acquisition strategy and how the firm tracks and measures the success of its program.
Search engine optimization (SEO) professionals consider social shares and unique visits the most important KPIs for a piece of blog content, according to a December 2015 survey.