Advertising & Marketing
---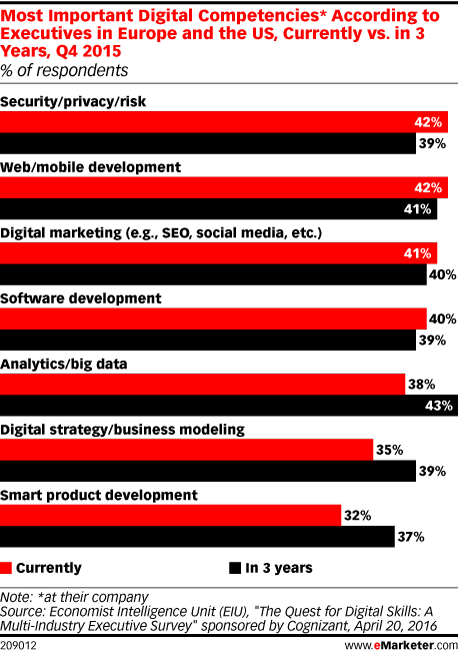 Digital expertise in security, as well as web and mobile development, were most in demand for executives in the US and Europe during Q4 2015, according to research. Within a few years, competency in analytics and big data will be a more crucial skill needed.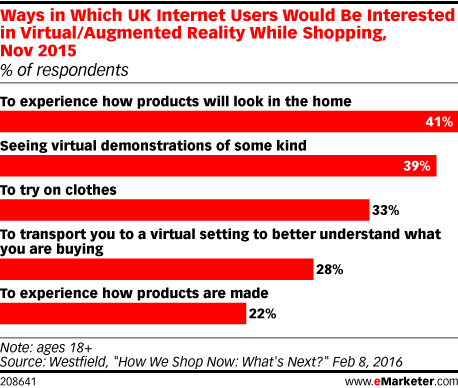 There's a great deal of excitement around virtual and augmented reality in the tech community, but consumer awareness—and especially usage—in the UK is still quite low. That said, the nation's digitally advanced shopper population is particularly interested in what such technologies might be able to offer.
Kevin Gentle, digital strategy director at Labbrand, discusses how brands are using, and plan to use, digital video advertising.
Dr. Thomas Trautmann, certified neuromarketing instructor and business partner at SalesBrain, an advertising agency that uses neuromarketing to tap into the consumer's mind, talks about how the personal nature of mobile devices allows marketers to connect with the pain points of a brand's audience.
Zappar, a UK-based augmented reality app creator, spoke with eMarketer about how brands are exploring the medium.
Few marketers have complete insight into their customers' journeys, but many have more actionable data than in the past. Topics in this webinar include: What are some of the biggest trends and areas of focus for multichannel marketers today? How are audiences splitting their time across channels and devices—and how are marketers following them? What challenges are inhibiting multichannel marketing? What are four core areas of focus marketers need to consider in order to successfully execute a multichannel strategy?
Ad blocking as a phenomenon is gaining traction—20.5% of UK internet users will use ad blocking software in 2016, eMarketer estimates, and that will rise to 27.0% next year. eMarketer's senior analyst in the UK, Bill Fisher], looks at the assumptions underpinning eMarketer's forecast and outlines what the numbers mean for marketers, publishers and advertisers.
Sorting through the myriad options for advertising opportunities can seem overwhelming. As brands shift budgets from linear TV to digital video, they are faced with decisions about what platforms work best, what publishers to partner with and how to assess campaign success in a fragmented, evolving media landscape.
Strong majorities of internet users in China say they pay attention to ads on a variety of websites—though they're significantly less likely to actually click on them, research suggests. Relevance is key.
Digital is central to the lives of children and teens in Canada. Like millennials, these are digital natives, with no concept of a world without the internet. Engaging them requires digital and mobile thinking from brands. It also requires an understanding of how behaviors are shifting—and an ethical approach, especially with kids.