Advertising & Marketing
---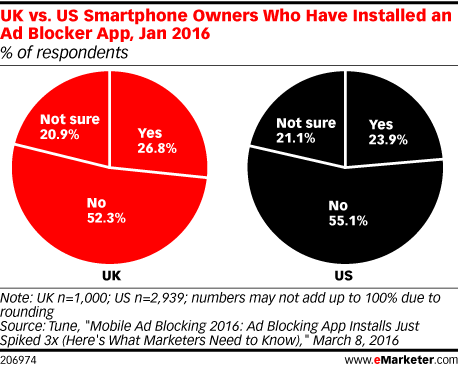 In the UK and US, about a quarter of smartphone users have installed an ad blocking app on their device, while in France, about 30% of all internet users use ad blockers.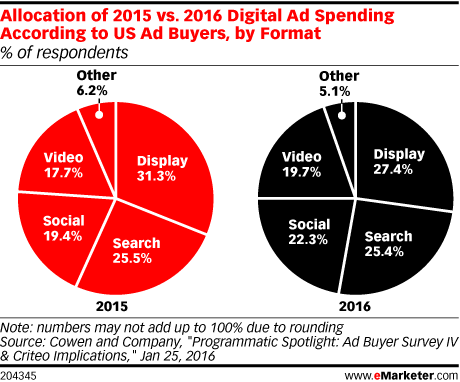 The two core areas of digital video monetization, advertising and subscriptions, remain on aggressive growth trajectories. Revenue in the US is up across the board and forecasts call for continued increases.
D.J. Reali, senior vice president of national advertising sales at The Weather Company, discusses the topic of applying data to ad creative.
African nations have some of the highest gender gaps in digital access and smartphone ownership, according to a February 2016 report. Even where overall access is very low, men are more likely than women to be online.
Internet of things (IoT) devices are garnering the attention of many marketers and consumers. While they may have different purposes, a December 2015 survey found that these devices may become common financial transaction methods, particularly wearables.
When it comes to targeted advertising, many US internet users across generations feel like they are often forgotten about by advertisers, according to November 2015 research. And they feel it is about time they are recognized.
Research suggests that contextual relevance does not do much to improve ad recall. But audio can make a difference, as can viewthrough.
Business executives worldwide are producing significant amounts of digital content and assets, according to an April 2015 report. And, they expect that volume to increase in the next two years.
Internet usage is pervasive in the US, with eight in 10 people now going online regularly. But consumers' digital lifestyle has evolved into a multidevice experience, with mobile devices playing a prominent role in 2016.
Internet users in South Korea have shifted their trust in the media toward digital, and away from traditional. But in nearby China, the same researcher found trust in traditional holding strong.