Advertising & Marketing
---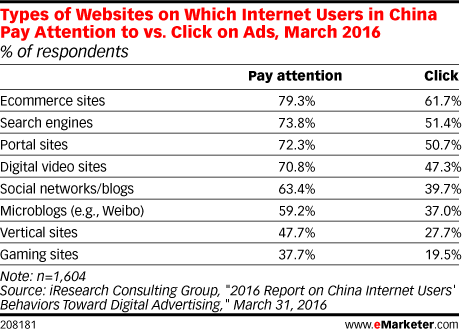 Strong majorities of internet users in China say they pay attention to ads on a variety of websites—though they're significantly less likely to actually click on them, research suggests. Relevance is key.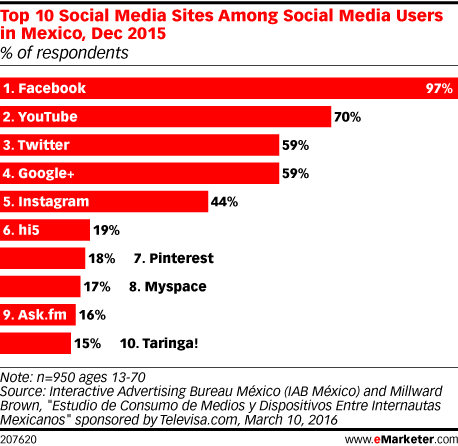 Facebook's reach in Mexico is near-total and, what's more, users visit the site more frequently than any other social media property.
B2B marketers in Australia are getting increasingly sophisticated in their approach to digital marketing, turning to tactics like marketing automation and social media to help generate leads.
Adrian McDonald, chief product officer at mobile ad platform Widespace, spoke to eMarketer about the importance of measuring viewability and what other metrics shouldn't be ignored.
Adriana Matyaskova, head of media at digital marketing and technology agency DigitasLBi, spoke to eMarketer about ad viewability in the UK and how ad blocking relates to the metric.
While almost two-thirds of bad bots worldwide behave like bots, roughly 40% are able to mimic human behavior, according to 2015 research.
The volume of content flowing out of B2B companies continues to grow, as more marketers find success with the tactic. Topics in this webinar include: What have B2Bs learned about content marketing ROI in the long term? How much content are B2B firms producing for their marketing efforts? What types content process and strategy deliver the best results? How are B2Bs tailoring content marketing efforts for their audiences?
According to a February 2016 survey, 36% of internet users in Denmark, Finland, Norway and Sweden used an ad blocker. The ad blocking user rate was highest in Sweden, at 39% of respondents, followed by Denmark (37%). Norway and Finland were tied at 34% each.
Though US internet users are interested in virtual reality and experiencing different types of content via the technology, February 2016 research found that most users worldwide are not interested in purchasing a VR headset.
Internet usage is higher in China among men than among women, according to our latest forecast of internet usage around the world. And, in turn, men outnumber women in the digital population of the country.