Advertising & Marketing
---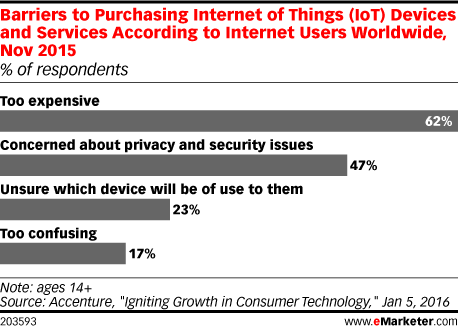 The internet of things (IoT) has a wide-ranging impact across many categories, from healthcare to travel. And consumers are even embracing smart home devices. However, when it comes to purchasing an IoT device, cost is a top barrier.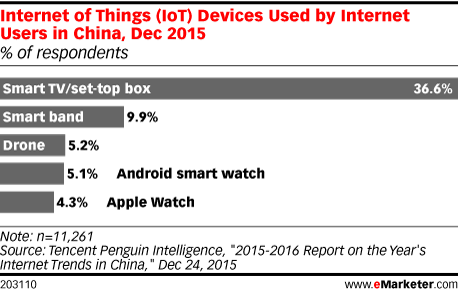 Smart TVs are by far the most common devices internet users in China have implemented as part of the internet of things (IoT). Forecasters expect they will continue to be the top smart home device in the country.
Agency executives—more so than senior marketers—plan to increase spending on a variety of different formats in 2016, including digital, social and mobile.
Thomas Meyer, co-founder of Mobile Now Group and a veteran of the China mobile scene, encourages Western brands to advertise and sell via WeChat.
Craig Dalton, co-founder and CEO of Dodocase, talks about how the maker of smartphone and tablet cases entered into the business of creating custom Google Cardboard viewers for brands and highlights some recent campaign examples.
Eric Oliver, director of digital marketing for outdoor apparel brand The North Face, talks about his company's approach to creating and distributing immersive virtual reality (VR) experiences using 360-degree videos.
The amount of content B2B marketers are creating is expected to drastically increase in 2016. With this amplified emphasis on content marketing, these marketers have evolved in their approach and strategies—they are looking at the long game and realizing that although waiting 18 to 24 months for results is not ideal, it is the new reality.
Almost all web users know something—however vague—about the internet of things (IoT). But many worry about the privacy implications.
At first mention of the internet of things (IoT ) for healthcare, Fitbits, Jawbones and smart watches probably come to mind. These devices have received a strong dose of media hype, but they are just the tip of the iceberg in a growing infrastructure that is bringing meaningful connectivity to the business of health.
Many brands prefer to upload their videos directly to Facebook, according to research from quintly. YouTube videos only make up roughly one-quarter of all videos posted by brands on the social network.